Well, after asll of this work on the Alvarez making it into a really good playing banjo, I have now sold it to a nice gentleman from the BHO. He is really getting a good banjo for the price and I hope he gives it a good home.
The new banjo in my life is a Deering Sierra that I picked up from Guitar Center in Austin for a steal at $900!!! And, it's brand new and came with a GREAT hardshell case. I have been playing the Deering some over the last few days and I must say that it is indeed a quality instrument. It isn't overstated and doesn't have intricate engraving or inlays, but man does it ever sing!
Now I'm trying to decide if I want to put the Fults tailpiece on it that I bought sometime back or just leave it as is? The banjo does sound good now, and I hate to mess with the sound by adding stuff I don't need. But, I already have the tailpiece so maybe I should give it a try.
One more thing... A while back I ordered an engraved tension hoop and armrest from FQM and forgot all about it. Well, today I received a call saying it was ready! So, I guess I'll put these items on the new banjo!
Todd
---
3 comments on "Goodbye Alvarez... Hello Deering!"

Wills Creek Says:
Wednesday, April 14, 2010 @8:36:23 PM
You can't go wrong with a Fults. It adds to the sound.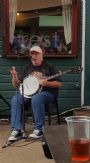 joemac Says:
Wednesday, April 14, 2010 @10:34:07 PM
Fults is the way to go.........

stanger Says:
Friday, April 16, 2010 @4:37:47 PM
As long as you have the tailpiece, go for it! I tend to play a new banjo for quite a while before I change anything, and if I do make a change, I swap the parts back and forth several times before I make a final decision. I've found that DIFFERENT tone is not always BETTER tone, so sometimes a change sticks, sometimes not.
You must sign into your myHangout account before you can post comments.