About a month ago, my Dad and I went to the Minnesota Winter Bluegrass Festival. We were not even there for 24 hours, but so many great things happened. One of the people I was looking forward to seeing and jamming with was Tom Nechville of Nechville Banjos. The first day we got there was in the evening right when the festival started. When I got to Tom's booth he let me try some of his instruments and I got to jam with him and Johnny Butten. The second day we were there I asked Tom if he could do some setup work on my banjo. We got to talking, and now he set up for me with an account to help me save up for a new banjo. I picked out one of the banjos that he had at the booth which was an Orion banjo with a Black Heli-Mount frame (COOL)! While I was at the booth I also met a friend of Tom's, Tedd Williams. He heard about the deal with Tom and he also wanted to help me out.
Thank you so much Tom, Tedd and anyone else that helped.
God bless you all!
---
3 comments on "I'm On My Way!"

nechville Says:
Friday, April 9, 2010 @6:40:43 PM
Hey David, You have a nice start on that banjo account, What is your timeline goal for paying it off? You should really start making small deposits regularly, it won't even hurt. Give me a call sometime. Tom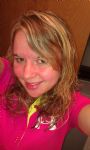 bluegrass girl Says:
Thursday, May 27, 2010 @12:10:10 PM
Thats awesome! Nechvilles are really awesome!
When you get your banjo you should post some pics!!

Yellowhouseroad Says:
Thursday, May 27, 2010 @8:12:36 PM
You can count on it! Thanks.

-David
You must sign into your myHangout account before you can post comments.