Well after reading the feedback I got about when to restring your banjo, I realized that it was high time to change out my 9 month old strings. So this morning around 9:45 AM, I collected my banjo, some diagonal cutters, a soft pencil, a new set of D'Addario LEO10 strings, and my Banjo for Dummies book...aka the Bible for Newbie Banjo Enthusiasts.
About 2 hours (yes, TWO HOURS) later, I finally had a tuned banjo with new strings.
The most problems I noticed having were keeping the loop ends around the tailpiece when drawing initial tension. I finally solved this by wedging in the tip of a mechanical pencil. But I'm not sure I wound the excess string around the peghead in the correct direction or not, so I tried it both ways. So when I started pulling tension, the loops around the peghead started unwinding and/or sliding off the top of the peghead, or I would get up to tension and find I had loops of slack all around the peghead. So I would unwind it and start over.
And over.
And over.
And over.
Finally, I think I have a nicely strung 1st, 2nd, 3rd, and 5th string. My 4th looks pretty suspect. I tuned the instrument, played it for a couple minutes, and then re-tuned it. It held that tuning throughout the next hour that I played the instrument, and I think it's still in tune, so it seems as though I was ultimately successful.
Too bad that I can completely string two tennis racquets in the time it took me to string 5 strings on my banjo!
Oh well. Practice makes perfect, right?
---
3 comments on "Wow I suck at restringing"

Banjov1 Says:
Monday, March 1, 2010 @6:01:11 PM
Hank, I had the same frustrations for a long time. My first banjo was ridiculously tough to get strung. If it makes you feel any better, I can do it in under 10 minutes 3 years later. I know lots of folks do it faster

It would probably be too confusing for me to try to give you step by step instructions but, I'll give you 4 quick tips and hopefully one or more might help.

1) If you're not already doing this, re-string only one string at a time. In other words change the first, but leave the old 2-5 strings in place. Tighten the new string and stretch it a little before changing the 2nd and so on...
2) It helps me to put the string tip through the peg hole on the headstock first
3) Then on the tailpiece side, once you get the loop around the tab, give it a good yank. That seems to help keep the loop in place.
4) Don't start winding the string with too much more play than being able to fit a softball underneath it.

New strings make so much of a difference in the tone you get out of your banjo. I hope you keep at it and get more comfortable doing it.

T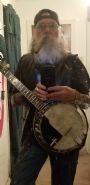 5stringpicker2 Says:
Tuesday, March 2, 2010 @1:07:23 PM
Yep just like Johnny Cash's song "One Piece At A Time" restring it "One String At A Time".

I hold tension up and pull the string toward the peg head that way the string won't slip off the hook on the tail piece, thread the string through the peg and twist away.

String one and repeat 4 more times. good luck on your next change over.

(I )===='----<::)

Kevin G Says:
Tuesday, March 2, 2010 @7:10:18 PM
I've done this a half dozen times or so and I still suck at it, if that makes you feel better. My teacher used to freak out when I'd wind the string toward the top of the peg; I try like crazy to wind it toward the bottom but still can't quite figure out how to do it. Somehow, my banjo still plays, but it really used to drive her crazy. Banjo for Dummies has a pretty good description of how to restring the banjo, but I find that even that isn't dumbed down quite enough for me. Good luck!
You must sign into your myHangout account before you can post comments.