Posted by rupedog on Saturday, February 27, 2010
Sat around with 'lespick' last night and talked banjos for a couple of hours. Realized that banjo players are different. If anyone was listening in on that conversation they would have been very confused. Beginning to think banjo playing is a sickness.
Still learning a little at a time. Haven't really gotten off of the plateau I talked about last time. Still looking for a breakthrough or something different. The real answer is more practice, practice, practice.
---

Ks_5-picker Says:
Monday, March 1, 2010 @9:50:43 PM
Sometimes I find friends to talk banjos with and it leaves innocent bystanders with glazed eyes and nodding off to sleep. Not everybody understands our obsession.........what's up with that? ;)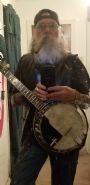 5stringpicker2 Says:
Tuesday, March 2, 2010 @1:00:53 PM
Really it's like they don't understand or recognize CraZy PeOPle when they see us.

(I )===='---<::)
You must sign into your myHangout account before you can post comments.