This week's update is another 20 bpm of speed (ha!) on Cumberland Bl**dy Gap. The increased speed again comes at the expense of missed picks and poor timing. I'll press on though: http://www.banjohangout.org/myhangout/media-player/bho-player.asp?isjukebox=no&musicID=2655
I've been busy trying to learn the G licks 1,2,& 3 (lessons 20, 21, 22) but am having a lot of trouble putting them together in Train45. Almost got Wildwood Flower (p 37) together but it's messy too and I can't get above 168bpm and keep it in time. Also forget to move RH between X & Y positions. It's hard this banjo stuff.
---
3 comments on "4 weeks into learning - getting messy"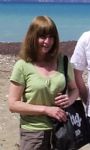 u k sandra Says:
Thursday, March 22, 2007 @3:22:42 PM
Sound`s fine to me, but what do I know, I`m a frailer. I wish I had been that good at 4 weeks ( I wish I was that good now ).

atomicmakobanjo Says:
Thursday, March 22, 2007 @5:18:00 PM
i have been playing for five years and im 13 you sound very good might work on endings but other then that you sound great

fisher Says:
Thursday, March 22, 2007 @6:19:48 PM
Sheet Patrick, you sound purtygood. 4 weeks into my first lessons I was told I sounded like a sick cow.Magin how good you'll be in 4 years.Sierra's have a nice ring
You must sign into your myHangout account before you can post comments.