This past Friday I had the privelage of seeing two really great bluegrass groups live here in Athens, Georgia at the Melting Point(venue). The show was opened by a group called 'Town Mountain' and the headliner group was Mountain Heart.
I titled this blog Mountain named bluegrass bands because both groups had similar sounding names and they were both so good that I thought it wouldn't be fair to either one to name the entry after one group and not the other.
Many of you may know about Mountain Heart, a energetic bluegrass band that's been big in the genre for the past ten years or so. It was my first time seeing them live and in person. Very good performance! Not my traditional flatt & scruggs or stanley-sound type band, but definitely worth seeing. Their new member, Josh Shilling, really took control of the whole show.
The other group, Town Mountain, was from Asheville, NC. They were really good and suprised me at their original songs and talent. I will definitely follow this group from now on.
Things are going well I guess even though we've been stuck in a very wet & rainy season this winter here in north Georgia. I'm ready for warm, DRY weather.
---
2 comments on "'Mountain' named Bluegrass Bands"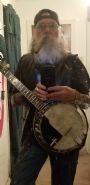 5stringpicker2 Says:
Monday, January 25, 2010 @10:05:05 AM
Talk about groups with the word mountain in their name, Our band in the early 80s was called Trad Mountain. Trad standing for Traditional music.

(I )===='---<::)

Banjo Mountain Says:
Monday, January 25, 2010 @10:50:27 AM
Bluegrass, banjosn and the word mountain are always used together. My username is a great example, Banjo Mountain.
You must sign into your myHangout account before you can post comments.