Posted by BrittDLD1 on Wednesday, January 20, 2010
.
Fairbanks, c1909 -- SN25230 -- Engraved Inlay, Carved Heel

FOR SALE -- SOLD! Thanks for looking.
Posted in Classifieds 1/20:
http://www.banjohangout.org/classifieds/detail.asp?cid=13289

Needs TLC -- $3500 / Offers considered.


100-YEARS OLD -- This is the 5th or 6th earliest-known Tubaphone 5-string. (Jim Bollman
has info on only four other examples which are earlier.) It was made before the dowelsticks
were stamped "TU-BA-PHONE". The dowel does carry the Fairbanks nameplate. The serial
numbers for rim and neck match.

It's one of my "project" banjos, and does require some significant restoration. I've currently
got enough projects for three lifetimes -- so I'm "thinning the herd", and looking to pass this
banjo on to a dedicated collector/player who can give it the attention it rightfully deserves.
Swap Shop -- discussion Topic:
http://www.banjohangout.org/topic/168691

Collector's Corner -- discussion Topic:
http://www.banjohangout.org/topic/168692
SEE PHOTOS on my Photos page:
http://www.banjohangout.org/myhangout/photos.asp?id=8334&albumid=4048
---
1 comment on "SOLD!-- Tubaphone Flowerpot -- 5th Earliest Known"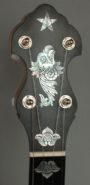 Paul Gorman Says:
Monday, March 8, 2010 @8:16:50 PM
The 5th string nut, or 'pip' can be placed above, next to or below the 5th fret. My '05 Bacon Pro ff has it next to the fret, my '21 Fairbanks WL has it below the fret. Arthroscopic surgery. What chokes me is the asking price considering all the issues.
You must sign into your myHangout account before you can post comments.