Hi Guys,
It is with great excitement and pride I am able to announce the launch of the brand new Down County Boys website downcountyboys.com
The website is a work in progress but we are working hard to get it complete, please come on over to downcountyboys.com take a look at our efforts; contact us, let us know what you think and please any suggestions for content you would like to see included in our website would be gratefully recieved.
Thanks for reading and hope to hear from you soon!
Chris
---
3 comments on "Down County Boys Go Online After 46 Years."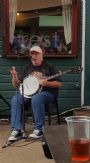 joemac Says:
Thursday, January 21, 2010 @9:07:15 AM
Great news Chris, i hope your looking after it, them ol' boys are well past difficult things like computers!!!! will talk with you about banjo presentation soon buddy, continued success.....Joe

Guy Says:
Thursday, January 21, 2010 @11:35:11 AM
Hi Chris,
about time too! Can't help smiling, I offered to do it about 15 years ago but it fell on deaf ears.
Glad you got it sorted in the end.
All the best
Guy

Chris Cooper Says:
Thursday, January 21, 2010 @1:18:23 PM
Hi Guys,
Thanks for your comments, I'd just like to point out that I can't take credit for the building of the website because it is indeed, me who is the technophobe! It is infact my Dad who designed and built the website with a little help from my artistic (LOL!!!!!!!!) eye.
You must sign into your myHangout account before you can post comments.