So.....you went out and bought a banjo!
My first piece of advice is to RUN! Dont walk....RUN ! Sell the banjo, give it away, use it for a flower pot, anything, only don't start learning to play it !!!!!!

Wheewww! Now that I've got that out of my system....How wonderful it is that you want to play a banjo! It will fill your life with thousands of hours of....of....fun, time away from your family, fun, work, practice, more fun, sore fingers, and lots and lots of fun!

Remember, the banjo is your enemy! It must be beaten! It wants to drag you into jam sessions, take you away from your TV and X-Box. It has a difficult personality and doesn't play fair. You must tame the beast! You must practice until it hurts and NEVER look at it directly in its peghead.

It must be conquered, however, you will never get a consensus from the other suckers.......uh....players here on exactly how to do that since, most of us are still trying to figure that out.

It does have its advantages, however. Even if you never learn how to play you can still show up at jam sessions with your banjo hanging on your shoulder. The girls just love banjo players! There is an aire of confidence and studlyness with banjo players that just isn't there with mandolin and guitar players. So you have picked the right instrument for that.

We have a 12 step program available should you decide to take my advise and run. I say we have a program. No one has ever successfully completed the program. But, it does make you feel better about yourself during those times when the banjo gets the best of you, and it will get the best of you sooner or later.

Remember that learning to play backup banjo is all important as you begin your journey down that long, lonesome road. Always use pics and a metronome and did I mention run?

So, always keep three things in mind everytime you pick up the banjo.......1) Be thankful you picked the banjo and not the mandolin......2) girls will love your studlyness .......and 3) backup.

uncle tex
---
6 comments on "On choosing the banjo......"

banjotef Says:
Thursday, January 7, 2010 @9:26:17 AM
I tried to run, but couldn't run fast enough!

peghead59 Says:
Thursday, January 7, 2010 @9:50:10 AM
Still waiting for the girls!

Sweet Annie Says:
Thursday, January 7, 2010 @3:58:17 PM
lol....I Love it....just what I needed after a stressful day at work....and did I mention that I Love it? Thanks

zeke_w15 Says:
Thursday, January 7, 2010 @9:53:59 PM
Yep, I ran too, ran right smack into it.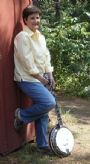 Banjosnob Says:
Friday, September 3, 2010 @3:39:29 AM
Can't be as hard as Golf! hummmmmm, maybe it can double as a putter.
Jody Hughes Says:
Tuesday, February 1, 2011 @6:22:37 PM
Glad to see you back posting.
You must sign into your myHangout account before you can post comments.