Hi Y'all,
Its Been almost six months since my last blog entry; mainly because nothing much has happened to top my delight from the North Wales Bluegrass Festival in July of last year! (see my previous blog entry for details)
Well lets see there have been some changes in my picking, my back-up and lick library grew an immence ammount after spending an afternoon under the guidance and in the company of my good friend JoeMac. Joe is a fantastic player and all round great guy, he showed me numerous new licks and a couple of concepts which I have focused on hard and that have made a huge difference to my playing.
I attended the Didmarton Bluegrass festival back in September of 2009, although I went with the rest of the band, we were not on the bill this year as the organisers run a one year on the bill; one year off the bill policy for all bands. We were treated to a visit from "Mountain heart" at Didmarton, they seemed to go down very well with the majority of people who saw them play.
There have been numerous gigs with the DCB's, the most memorable was at California Sands in Norfolk, England, where there was a country music festival, this was a lot of fun. The whole band were very relaxed and we played very well indeed. We went down with the audience incredibly well; mainly I think because they had been listening to country bands consisting of a singer with a guitar, a drummer and a bassist for two days, then we walk out as a five piece bluegrass band and play something completely different.
It was great to play to a non-bluegrass audience too because I got to pick all the old cliche's that bluegrass audiences are sick of hearing, things like the "Ballad Of Jed Clampett" and "Foggy Mountain Breakdown." I Don't get to play those things with the band very often, so it was a lot of fun for me.
I have spent an unhealthy amount of time studying Ron Block's "Fresh Look At Bluegrass Banjo". I also bought all the AKUS and Weary Hearts albums to further advance my understanding of Ron's playing.
I have spent many more hours learning from the "Power Picking" series from acutab, I firmly believe this series should be in every banjo players library its just invaluable!
I have switched from using Dunlop's White heavy plastic thumbpicks to the National heavy white ones; although I have retained my Dunlop fingerpicks because I just can't get the sound I want with anything else.
My beloved Metronome was completely obliterated and by that I mean smashed into a million unrepairable, clicking, bell ringing cogs, springs and shafts, when my Dad knocked it off the desk onto the floor! HA HA HA! The metronome has today been replaced with a beautifull highly polished mahogany one made in Germany by the famous Wittner manufacturer, photographs can be seen in my photo album.
Most recently there has been a new addition to my family in the form of Sophie the seven week old Kitten, who is very mischeivious and seems to have almost as much love for my banjo as I do. LOL photographs of Sophie are also in my photo album for anyone who is feeling a bit soft centred.
I will be sure to update my blog sooner next time!
I wish you all a happy, healthy and wealthy 2010;
Happy New Year to all!!
---
2 comments on "Been A Long Time."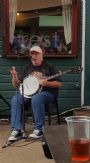 joemac Says:
Sunday, January 3, 2010 @2:05:42 AM
Happy New Year Chris, good luck with your banjo work.....Joe

TopCat Says:
Sunday, January 3, 2010 @12:45:52 PM
Thanks for the entertaining update, Chris. I also got the Ron Block DVD but I think it's a bit beyond my level as yet...! But to get to the most important point - more photos of Sophie the kitten please! ;o)
You must sign into your myHangout account before you can post comments.