Posted by ZEPP on Saturday, January 2, 2010
Carmen has now been doing daily radiation therapy with weekly chemo-therapy at a lowered dose to synergize the radiation's effects. She is, at this writing, three weeks into this, and has three weeks to go.
The good part of all this is the knowledge that there was absolutely no sign of her cancer's having spread. The worst part is that the side effects of radiation and chemo aren't avoided by their being administered as prophylaxis. Thus, Carmen suffers daily nausea, extreme exhaustion, frequent headaches, and other painful and/or uncomfortable internal and external damage being caused by the therapies. The cisplatin dosage is low enough that total hair loss is not expected, though thinning has begun. In anticipation of this, Carmen had her hair cut in a short style that I think looks just wonderful on her; it's hard to imagine that she could look even more beautiful to me!
The decision to endure all these side effects was not made easily and involved a whole lot of research and soul searching. Ultimately, she and I agreed with the oncologists that an aggressive course of action would be the way to go, so everything possible is being done to prevent the cancer's return.
This has not been an easy time for any of us. We are ever so grateful to all our friends and acquaintances who have been so kind with their deeds and thoughts. Suffice it to say, we are so much looking forward to February, when the therapies will have finished, and Carmen can begin to heal from the damage being inflicted.
One of the frustrations of cervical cancer is the simple fact that it is caused by human papillomavirus (HPV) and the cancer is not passed down through family genes. There are vaccines on the market now that prevent this common virus. The HPV vaccines were developed too late for Carmen, but not too late for many of you ladies, and certainly not too late for our young daughters! Talk to your doctors: If someone you love can benefit from HPV vaccine, please, please get it for them. What Carmen is enduring can be easily avoided now--please don't make yourself or your loved ones suffer!
---
8 comments on "Half way through..."

dbrooks Says:
Saturday, January 2, 2010 @7:42:24 AM
Thanks for the update, Zepp. You and Carmen are in our thoughts.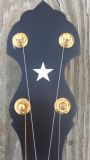 RWJonesy Says:
Saturday, January 2, 2010 @6:35:12 PM
*** Thanks for the information Zepp. I have prayed for both physical and spiritual healing for you both. God Bless You !

panthersquall Says:
Sunday, January 10, 2010 @7:30:46 AM
Wishing you and Carmen lots of strength, love and support and a happy outcome.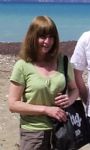 u k sandra Says:
Sunday, January 10, 2010 @8:13:17 AM
There`s nothing worse than watching somebody you love going through all of that and knowing there`s nothing you can do. I know what it`s like. You feel so useless. Hopefully, with all of our prayers and good wishes ( and the chemo ), she`ll be fine and you`ll have many happy and healthy years together.

dhergert Says:
Monday, January 11, 2010 @7:55:51 AM
Zepp, we're rooting for you and Carmen in every way we can... Like with so many other things more banjo related, thank you for raising our cumulative interest in this important topic.

Pluckin Mutha Says:
Tuesday, January 12, 2010 @8:21:18 AM
I'm sure things will work out for Carmen and you.
My wife was diagnosed with Cervical Cancer in 1994, treated by radiation, and is still doing well today. She was lucky to duck the "Chemo", which she dreaded.
Keep on keepin' on

Frosty Morn Says:
Sunday, January 17, 2010 @3:27:20 PM
Zepp, just catching up on the news. My heart goes out to you and Carmen in this difficult time. Soon this will be behind you - sending good thoughts your way for continued strength.

Enochinst Says:
Saturday, January 30, 2010 @9:39:37 AM
Zepp, I'm just learning about this now. Guess I need to hang out on the Hangout more. I'm relieved to hear that all is going well and sure wish there was something I could do to help you both. I have two young daughters and Kate and I both agree they are going to get the vaccine. Wishing you both all the best.
You must sign into your myHangout account before you can post comments.