What better way to celebrate the New Year and the New Decade by gettin' a New Banjo! After spending Christmas in redneck southern Alberta with my wife's family, I flew back to the east and heard of the boxing week sale at the 12th Fret store in Toronto. So on December 28th, I walked in to the store for a serious look. Apparently many other pickers had the same idea as the store was crowded to say the least. In short order, I was drawn to the back of the place where all the banjo's are kept. A few years back, when I upgraded to my Deering John Hartford banjo, I had traded in my older Sierra for a great deal. Trouble was, I soon began missing the sound and feel of the Sierra. I absolutely love the John Hartford banjo, it's sweet mellow tone and classic looks, but every week or so I longed for the bite and tone of my old Sierra. There in the banjo room, hung a brand new maple Sierra with the newly designed fretboard inlay. As soon as I played it, I was hooked. With the Canadian dollar being close to par with the U.S. greenback and the boxing week sale, I purchased the new maple Sierra at considerable savings, compared to a few years ago. So now I own 2 banjo's, both made by Deering, both with distinctive tone characteristics all there own. It was the best post Christmas present I've ever bought myself. And I look at it this way ... I'm only gettin' old once!
---
3 comments on "New Year's Banjo"

PruchaLegend Says:
Friday, January 1, 2010 @11:13:17 PM
Congratulations on the new banjo.

stevengaub Says:
Saturday, January 2, 2010 @10:22:23 AM
It sounds like you need 2 or thr33 more. Will you be at the boxing day sell next year.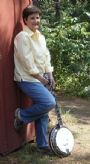 Banjosnob Says:
Saturday, January 2, 2010 @12:57:19 PM
You can never have enough Deering Banjos!
You must sign into your myHangout account before you can post comments.