Posted by Kevin G on Saturday, December 26, 2009
Nothing banjo-related here: Our trip was cut short by the weather, and since it was my first time there, we did mostly tourist stuff. But I've posted some photos from our trip to New York. It's an extremely photogenic city, as you'll see. All you have to do is point and shoot.
Highlights: The Staten Island Ferry trip gave us great views of the city and of the Statue of Liberty; our late afternoon and evening visit to Rockefeller Center and the fantastic sunset that we had.
In all, we shot over 400 photos in 1 and a half days, but I noticed that it's important to stop walking while shooting. At one point I was aiming across the street, but still moving forward. Ow, wow ow ow: I walked right into a basement railing on my side of the street and barely escaped severe, emasculatory bruising in the upper thigh region.
Anyway, here's a quick selection of photos for my friends on the BHO. It was a great trip, although short. I hope you like some of the shots.
Happy New Year!
Kevin
PS. Times Square is so crowded during the week that it's the last place I'd want to be on New Year's Eve. Sure, if I were in my 20's, knew my way around the city and loved being crushed by 500,000 people, I might think otherwise. But to my current way of thinking, TV is a pretty darn good way to experience this.
---
7 comments on "A few photos from our NYC trip"

OneMusicLover Says:
Saturday, December 26, 2009 @9:25:56 PM
Thanks so much for posting the pics of NYC in the winter. I've visited there many times but never wanted to be there in the midst of snow and cold weather. You showed me a different view of my favorite places. I love your attitude about the trip,and was so glad to hear that you visited all the regular tourist stops.
I always taken in a Broadway show if possible when I'm there, too, and almost made that suggestion to you. I hope you return again in the Spring. There's so much to see and do in NYC!

OneMusicLover Says:
Saturday, December 26, 2009 @9:27:43 PM
sorry...that should say "I have always taken in a Broadway show..."

mainejohn Says:
Sunday, December 27, 2009 @6:20:31 AM
Your photos are beautiful. Reminds me of when I was a kid growing up in sw CT when a trip to NYC was a special treat.

TopCat Says:
Sunday, December 27, 2009 @11:18:37 AM
Nice photos, Kevin. Happy New Year to you and yours! Maria

Kevin G Says:
Sunday, December 27, 2009 @1:22:15 PM
Thanks everyone. For every photo I shot, I could have taken 3 more. That's the problem when a trip is rushed like this one was. You have to hurry through everything. But we made the most of it, and if we had been able to stick to the original plan, I probably would have come home with over 1000 photos. So maybe it was a good thing...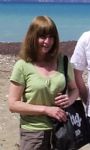 u k sandra Says:
Sunday, December 27, 2009 @2:55:27 PM
Kevin, did you manage to get to Mandolin Bros on Statten Island?. Its fantastic. So many banjos. I went to NYC a few years ago, just before Xmas but was only there for three days. If i`d stayed for twice as long, I still wouldn`t have seen everything I wanted. I`m pleased you had a good time. All the best for 2010.

Kevin G Says:
Wednesday, December 30, 2009 @8:46:47 AM
Sadly, Sandra, all shopping activities went out the window when the length of our trip was cut in half by all the travel difficulties. But we of course now have to go back, if only for the reason of visiting the Mandolin Bros. store. :-)
You must sign into your myHangout account before you can post comments.