Posted by phill on Tuesday, December 15, 2009
Hi everyone
Sorry not been about for a while but I've been having to have lots of tests done on behalf of the NHS (bless em where would i be without them).
My main problem has been my ankle that I'd broke in 2004 which is still very painful so yesterday (15/12/09) I had to have some nuclear medicine where they inject some radiation (tracer) into me and then scan my bones. For the next few days I'll be doing the advert for Ready Break ha ha.
I've also had a couple of other problems but I won't go into that a bit more involved and I'm waiting for results on both of these now.
Never the less I'm still here pickin' and not so much grinnin' but chin up. So like to wish everyone on Banjo Hangout a great Christmas & Happy New Year and most of all PLAY THAT BANJO!!!!
---
4 comments on "Merry Christmas & Happy New Year"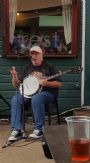 joemac Says:
Wednesday, December 16, 2009 @2:57:22 AM
Thinking of ya buddy, have a great Xmas and to heck with the health stuff..i'm in the same boat as you know.....keep grinnin mate.

buckbybanjoboy Says:
Wednesday, December 16, 2009 @10:48:08 AM
Ah, so that`s what the glow in the sky is to the south-east of Northamptonshire !!!! Keep smiling Phil and all the very best............................................Regards Peter V

Jonno B Says:
Wednesday, December 16, 2009 @11:11:56 AM
Hope 2010 is a better year for you. Have a Happy Christmas and a Healthier New Year. Kreep on pickin'.

Pablo9364 Says:
Wednesday, December 16, 2009 @1:34:36 PM
Merry Christmas Phil - Tell santa no more banjos
You must sign into your myHangout account before you can post comments.