I was going to post this in the forums but decided it should be done here so the folks on my friends list would be the ones to read it. Over the past year I have made some great friends and met several awsome pickers on the BHO. I have tried to be fair in helping out my fellow musicians on here and have had the same done in return. I bought a bluechip thumbpick from a friend on here to send to another close friend who was at the time just starting out. He has progressed excellent in the past year. I recieved a package today as a christmas present from this friend and I have to say that it may very well be the best gift I recieve this year ;)... I had been looking at buying a bluechip for myself but was not ready to spend the cash on one. Well thanks to a friendship that has been made on here I now have one. It is going to take some getting used to but already I love the feel and tone it has. I just thought I would post something saying thanks to everyone on here that has become friends this year and hope everyone has a great christmas. Thanks very much to arthur hatfield for the oppurtunity this year to endorse your awsome banjos. Thanks to ricky for everything. Theres to much to list. Also thanks to everyone else I may be leaving out. This is the best site on the internet IMO.
Merry Christmas
Jeremy
---
13 comments on "Friends & the BHO"

schlange Says:
Monday, December 14, 2009 @4:59:35 PM
Ah, shucks!

skeller77 Says:
Monday, December 14, 2009 @6:42:03 PM
Merry Christmas Jeremy and best wishes for the new year : )

jason holgate Says:
Monday, December 14, 2009 @6:42:16 PM
true words jere it is an excellent site and the banjo community has the finest caliber of people i have met merry christmas to all and thanks to all who welcomed and helped me along

catching2nd Says:
Monday, December 14, 2009 @10:57:39 PM
It's amazing how good of friends you can become with someone across the internet. It's an absolute pleasure meeting people from the website.

Jeremy, I hope you enjoy the pick as much as I enjoy the one you bought for me. I absolutely love mine. Thanks for all the help that you've been and for being such a good friend.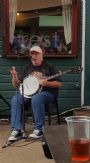 joemac Says:
Tuesday, December 15, 2009 @1:17:33 AM
good ol' hangout, well done and happy Xmas.............

RatLer Says:
Tuesday, December 15, 2009 @4:41:02 AM
Well said Jeremy...Merry Christmas and Happy New Year to you!!

sparksfurr Says:
Tuesday, December 15, 2009 @8:34:34 AM
Gosh jeremy...I have been giving people hell for posting crap about " I will not accept you as my Friend on the BHO and another one that says" I wont accept you as a friend cause Eric makes me feel like a second class citizen" LOLOLOL I am happy with all the friends I have met on here (both non professional and professional). I have never had a problem with any of you guys other than people like Ricky who learn to fast and make me jealous....but I am getting there and one day I'm gonna make all of you go..."Dam I knew her when she couldn't play a lick" HAHAHA I have gotten so I love you guys(some more than other) and your sick humor. Merry Christmas and Happy New Year and may your Banjos stay in tune throughout the year !!!

Wills Creek Says:
Tuesday, December 15, 2009 @8:43:39 AM
Merry Christmas to you Jeremy and all your family. and to all the hangout members! Hope to see you this Sunday at the benefit.

Bow-tie75 Says:
Tuesday, December 15, 2009 @10:45:00 AM
Hey Jeremy, good on ya! Merry Christmas to you and your family. Hope to see and pick with ya in the new year!

Pablo9364 Says:
Tuesday, December 15, 2009 @10:56:45 AM
Merry christmas Jeremy and Merry Christmas to all on BHO

dgill Says:
Tuesday, December 15, 2009 @6:24:44 PM
Spoken like a true gentleman. Merry Christmas Jeremy.

Oalbrets Says:
Wednesday, December 16, 2009 @12:41:38 PM
Merry Christmas Jeremy and everybody on the HO. I agree with you that this is a great site. Ricky, when can I expect my new thumb pick. Ha Ha Merry Christmas everybody.

Couchie Says:
Friday, December 18, 2009 @8:49:36 PM
The comradery and fellowship on this site is second to none. I love it!
You must sign into your myHangout account before you can post comments.