I would like to wish all my banjo friends a merry christmas.
This has been a great year for Banjobrothers Australia. We have achieved alot. Some of you have sent us your banjos for upgrades and repairs. Some of you have sent necks, pots, left over bits and pieces and trusted us to build you a quality banjo that suited your budget. John Gray from the Melbourne band Uncle Bill trusted us to build him a banjo from a neck and tonering he purchased here on the Banjohangout. He recently came to vist with a fret problem which we fixed over a cup of coffee. While I was fixing his banjo he was playing our new Eureka model which he liked the sound of (although the color was not to his liking). He asked if I could swap his tonering (McPeak) to our Eureka model which is a Vintage Huber nickle long shirt. I said sure so I stripped his banjo and put his rim Which was one of mine :) on the lathe and machined it to suit the Huber ring. Within the hour he was picking his banjo which sounded totally different. The change was for the good. Both of us were very happy with the upgrade. John played on the radio on Tueday and I was very excited that it sounded great and that I had a part in building it for him.
We would like to thank you all for your trust is us. We know we are only new at banjo building and repairs and we really appreciate you sending us your pride and joy and banjo projects.
Our website has also been growing and slowly making its mark on the internet. We bought our own domain name www.banjobrothersaustralia.com we have our own email account banjobrothers@hotmail.com and have done our best to get our name out in the world. We are adding banjo teachers for our members to hook up with and adding Melbourne bands and gigs so we can go watch and listen to our local talent. Uncle Bill with John Gray, Peter Somerville, Coolgrass with Jim Golding, Harddrive with Peter Sholtz and Over The Hill-Billies bluegrass band with Frank Sholtz.
Our membership is free for all and maybe in the future will be a place for Australians to meet and greet, swap and sell and get general information on whats happening in their area and find answers to questions you may have about anything.
So here we are, a tiny drop in the ocean trying to be recognized. Have a safe Merry Christmas and happy new year and thanks again to everyone that has helped and encouraged me over the last few years.
Big thank you to all the crew from the Dawg House who has always helped and encouraged me. They have also played a large part in teaching me to play banjo. :) Frank,Annie,Red,Bill,Carl,Ricky,Keith,etc
---
5 comments on "Banjobrothers Australia wishes you a Merry Christmas"

adeyb Says:
Wednesday, December 9, 2009 @5:01:28 AM
have a great christmas, in melbourne me self,will hop onto your site.have a safe and happy one.

mistertee6 Says:
Wednesday, December 9, 2009 @2:36:05 PM
Hi Leon,
I also like to wish you (Banjobrothers) a Merry Christmas and a Happy New Year.
Im sure next year will be bigger and better, your commitment building Banjos is strong, and I have seen the results.
Frank Scholtz
Over The Hill-Billies
Bluegrass Band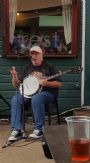 joemac Says:
Wednesday, December 9, 2009 @10:52:21 PM
Leon, happy Xmas bud, from all of us in the frozen UK!!!!!!!!!

laroc50 Says:
Friday, December 11, 2009 @12:12:09 AM
G'day Banjo Brothers,

Merry Christmas to you and your crew from Coral just down over the ditch in Tasmania. Sure would be good to have banjo camps for beginners etc in Austalia. I will check out your web site soon.


Kind regards

Coral

5strings3picks1banjo Says:
Friday, December 11, 2009 @6:45:29 AM
Yes more banjo camps would be nice. I would go for sure, I have a lot to learn myself.
You must sign into your myHangout account before you can post comments.