This summer I was incorrectly diagnosed with Lyme Disease. After a lot of medications and a ton of testing, seems like I have Rheumatoid Arthritus. Anyone on here have it or know of the condition? I haven't been on the hangout much latley because my fingers and hands hurt to type. Today is a particularly good ( pain free) day so I thought I would jump on and get caught up.
As for playing the banjo, forget it. My fingers, hands, and wrists are in too much pain to play. I haven't picked it up in over a month.
At the moment thay are just treating the symptoms, but on Dec. 4th I go back to the Rheumatologists to begin my treatment for the actual disease. Hopefully it gets under control and I can start playing again.
It's good to be able to vent and share my thoughts with everyone on here. Thanks for reading and I hope to hear from someone with some experience and advice on this condition.
Don
---
8 comments on "Not much picking for me latley!"

mainejohn Says:
Friday, November 20, 2009 @3:16:21 PM
Don...It was good to see you on Wednesday If you're down this way, give me a shout. Hope you're feeling better and that the docs can get this condition of yours under control.

Gcapo2A Says:
Friday, November 20, 2009 @3:37:05 PM
I have seen the doc regular for the last twenty years for a variety of conditions. At 38 I think I am much too young for all this. I pray to God (no actually I complain a lot) I think positively and I like to take vitamins all of which helps.

You are not the only one suffering. God be with you ;-)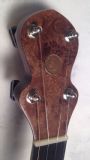 banjos-n-beer-boy Says:
Friday, November 20, 2009 @3:42:21 PM
don- so sorry to hear that.

Texasbanjo Says:
Friday, November 20, 2009 @3:43:00 PM
I've got RA and so far it is being controled fairly well by a prescription drug called Naproxen. I'm sure after you see your dr. he or she will put you on a medication that will hopefully help.

Until then, you might try putting your hands in warm water or using a heating pad around your hands to get them warm before trying to practice. You might also try ice for the pain -- about 10 minutes or less on the painful spot.

Hope your dr. can help you with this -- it's not a lot of fun to have and really does interfere with your picking.

Mainechowder Says:
Friday, November 20, 2009 @6:31:27 PM
Thanks Everyone for the kind Words.

Sherry, I tried the Naproxen and it messed up my stomach so badly ( and didn't do much for the RA) that I stopped taking it last week. The warm water definetly helps.

Thanks again!!

twayneking Says:
Friday, November 20, 2009 @10:16:51 PM
I drink about a half gallon of Aloe Vera Juice, 3 oz. a day over a couple or three weeks about every 3 months. Keeps the hands working and my knee from keeping me awake at night.

Why? Don't ask me. I was a skeptic too.

banjotom2 Says:
Friday, November 27, 2009 @9:35:36 AM
Keep fighting the good fight Don!

You're in our prayers.

Tom
backwardroller Says:
Monday, December 21, 2009 @1:14:57 PM
I heard a man had a sick mule, his best working mule in fact. He talked to another man who's mule had the same sickness, so he asked him what he did for his mule. He said "I gave him a quart of turpintine." He said "a quart" and the the guy said "yes, not a pint, but a quart". So he went home and gave him a quart. The next day his mule was dead. He then went to this other mans house and told him "hey, I did what you said you did and my mule died." The man said "you know, my mule died too." Don't take turpintine, but I do hope you can get it under control so you can play your banjo again.
You must sign into your myHangout account before you can post comments.