Posted by phill on Tuesday, November 17, 2009
Hi guys & gals, just thought I'd share this with you. I was in my local music shop the other day trying out some banjos. I pop in now and again just to see what there is for my students if they want to upgrade but not break the bank (or rob one as the case maybe).
Well there I was sitting pickin' a nice Ozark banjo, when a young lad in his 20's came up and ask me if the 4 string banjo was the right one to use for picking. I then said to him well thats ok using a flat pick but for finger style (bluegrass in this case) you need a five string. I then began to show him the style. Straight away he was hooked and has wanted me to teach him.
At the same 3 more people were wanting to learn this wonderful instrument in this wonderful style in which 2 of them have taken up lessons.
Just shows how infectious bluegrass music is, hope they don't have a an injection to kill it! "Keep pickin' hope it never heals". Phill
---
4 comments on "New Pickers - New Blood"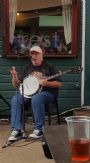 joemac Says:
Wednesday, November 18, 2009 @12:23:23 AM
Good lad phill, keep em comming, we need new blood over here.

TopCat Says:
Wednesday, November 18, 2009 @5:05:29 AM
Every time I'm in Eagle Music they always seem to sell at least one five-string banjo while I am there....mostly to 50-something or 60-something men, though (not that there is anything wrong with that!!) But does it still count as new blood? ;o)

buckbybanjoboy Says:
Wednesday, November 18, 2009 @9:25:44 AM
Yeah Maria, its odd that the bluegrass banjo has a peculiar attraction to the more mature gentleman. It must be something that we missed in an earlier life. Why I am still putting up with frustration, expense, cramp in my fingers and back-ache?.... I don`t know. Could it be that when it all works it is the sweetest sound on Earth ?
Best wishes from Northampton and keep flying the flag Phill............Peter V.

phill Says:
Wednesday, November 18, 2009 @10:12:46 AM
Getting back to the subject of new blood. Many older students I teach say they wished they had picked it earlier, but you think in the 50's 60's we were dazzled over here with skiffle and rock n roll. When I got into bluegrass 1966 and got my first banjo in 68 it was a very kept close secret. I swore if I could play the thing I would make it so anyone could play it and I must say after 30 odd years I've achieved that. So don't worry what age you are if you want to do it, you'll do it. Oh yeh and cramp and backache, when I was learning at a tender age of 18, I had that it's part of learning to play the beast. Ah but once you have her under control, its like putty through your fingers.... And do you know what youngsters are finding it cool (kl) to play bluegrass even over here wheather it be banjo or what instrument. And as for new blood, no matter what age you are if you get hooked on it, you are new blood.
Happy pickin'
You must sign into your myHangout account before you can post comments.