Posted by ZEPP on Thursday, November 12, 2009
As I write this, Carmen is back in the hospital. She has a UT infection and has been nauseated and in pain for days. Last night, she was running a fever of 103.6, so two weeks post surgery it was back to the hospital for her. She is now receiving anti-nausea drugs as well as an IV antibiotic. She apparently either has had a post surgical hematoma or some hemorrhaging, as she is anemic, and is now receiving blood as well.
She had a CAT scan this morning, so we hope very soon to know if the infection is localized or more widespread, in addition to getting a handle on what--if any--bleeding she has been doing.
Meanwhile, on an equally cheery note, though there were no histological signs of the tumor's having spread anywhere, her surgeon recommended that she speak with a radiation oncologist, as her tumor was fairly near healthy tissue that was not removed.
That oncologist is recommending an 8-week course of radiation of the healthy tissues, pretty much as an insurance. She also recommended speaking to the chemo Dr., with whom we are soon to have a meeting. Again, her take is that it is all "insurance" against a recurrence . Of course, it's pretty heroic insurance, and, needless to say, Carmen does not look forward to either therapy. We shall see what is recommended vis-à-vis chemo, but regardless, it would seem our next few months will be more hectic and worrisome than usual.
ugh.
---
10 comments on "and the beat goes on..."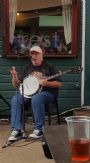 joemac Says:
Thursday, November 12, 2009 @11:47:19 AM
Good luck to you both Donald, thinking of you over here....joe

buckbybanjoboy Says:
Thursday, November 12, 2009 @12:49:54 PM
Amen to Joe`s comment with the hope that all will turn out OK for you both. Radiotherapy and chemotherapy are tiresome but necessary and lifesaving. Best wishes ..........................Peter V.

Emiel Says:
Friday, November 13, 2009 @10:22:29 AM
Keep on fighting, wish you all the luck.

Bill Rogers Says:
Friday, November 13, 2009 @9:36:02 PM
My best to Carmen and you. My sister's going through "precautionary" radiation for breast cancer right now. Not fun and always scary.

pandjlocke Says:
Sunday, November 15, 2009 @7:51:43 PM
All the best to you both. Take comfort in knowing that what's in your future will soon be in your past.
maryzcox Says:
Wednesday, December 30, 2009 @8:18:19 AM
Hope Carmen is doing better. Sending our continued best wishes. :)
love,
Mary Z

Tom Berghan Says:
Thursday, December 31, 2009 @9:07:22 AM
Carmen will be in my thoughts and prayers Zepp.

And whenever you go to the hospital try to take along a banjo and go play for the kids and any other folks. Clawhammer usually makes people smile. Smiling leads to better health. And the banjo player gets the added benefit of collecting a lot of Good Karma!

ncmedic Says:
Thursday, December 31, 2009 @3:55:10 PM
The best to your wife Zepp, I will remember the both of you in prayers and thoughts

Tommy

Dogfeathers Says:
Friday, January 1, 2010 @1:18:24 PM
Zepp,
Yikes, I am getting this news a bit late and only noticed it when you changed your homepage picture. Sorry to hear of this news. All the best with the treatments and wish you both the best.

Larry

ZEPP Says:
Saturday, January 2, 2010 @7:03:38 AM
Thanks one and all for you concern and kind messages. You are very much appreciated!

Cheers,
ZEPP
You must sign into your myHangout account before you can post comments.