Posted by acutab on Monday, October 30, 2006
Owing to some changes in my various schedule commitments - and the costs of keeping my son's college tuition bills current - I am accepting a limited numbers of private students in Roanoke, VA.

I'll be happy to work with banjo pickers at any skill level, and have plenty of experience with beginners through amateur/semi-pro players. We can work on tone and technique issues ("how to's"), solo construction and approaches to backup ("what to's"), or cover basics of chord and scale theory as they apply to banjo ("why to's").
I can accept regular students in the Southwest VA area, or one time/occasional students who are willing or planning to travel to Roanoke.
I have always enjoyed teaching, and once did so full time with a student load of 40-50 each week. Both of my parents were teachers, so I suppose that whatever penchant I have in this area comes to me from them.
Anyone interested in pursuing this should just use the email link (upper right) on this page to get in touch.
---
8 comments on "Teaching again..."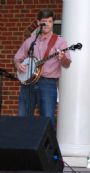 connerspur Says:
Thursday, November 16, 2006 @1:30:38 PM
John happens to be one of the best teachers I've ever studied under (this includes my College professors). He does a great job of working with students, at their level, to help them accomplish their music goals on the banjo. I only wish that I lived closer so that I could take advantage of John's offer to teach. I went to him over 5 years ago (after playing around with the banjo for more than 25 years) and he listened to me play and then gave me advice on how to get my playing on the "straight and narrow", focusing on Tone, Timing, Speed, and Accuracy. The improvement I have made is directly related to John's mentorship - I did the work - but he knew where to point me to get me there.

acutab Says:
Thursday, November 16, 2006 @1:41:27 PM
Thanks, David! I say this without a trace of condescension: I am quite proud of the progress you have made - not for my sake, but for the hard work you put in to get it done. John

BANJ58 Says:
Tuesday, April 17, 2007 @2:18:22 PM
Hi
I will agree with the previous comment. I have only been to John 1 time, but hopefully it will be the first of many lessons. I too have been trying for about 30 years and the first lesson pointed me in the direction I need to go. On first meeting, I think John will consider being my friend as well as my mentor. He really seems sincere when he says " We can do it ". And what a nice guy he is.
I recommend him to any one and every one that is able to take lessons from him.
Steve

acutab Says:
Tuesday, April 17, 2007 @2:31:12 PM
Thank you as well, Steve! It's hard not to find a new friend each time you meet another banjo picker. I hope we do get to work together for some time. John

Ban-Joey Says:
Saturday, October 6, 2007 @10:41:19 AM
John, Congrats my brother for the recognition at the IBMA's last night........ very cool!! Joe Bonsall
Micki Says:
Thursday, October 9, 2008 @2:52:45 AM
John
Thanks for all your patience, leadership, and being a wonderful friend to Gordon and I. His als is very progressive and has taken his voice and is attacking his repiratory really bad. He is on a ventilator now and after I sold my Granada we were able to get a communicative device to talk for him. I wanted to share some pictures with everyone to look at myself and remember the good times God gave to us. Times are really hard now and memories are very important to me. Thanks again for being you--the greatest. Mitzi

crishergirl Says:
Wednesday, December 21, 2011 @8:40:17 AM
Do you ever do Skype lessons?

acutab Says:
Wednesday, December 21, 2011 @8:47:55 AM
Hi Bobbie.

Yes - I do Skype lessons.

John
You must sign into your myHangout account before you can post comments.