Posted by 10gauge on Saturday, September 26, 2009
I downloaded some tabs off the site and started in my Scruggs book and now I have way too many projects going at once. I'm trying to learn Buffalo Gals, Salty Dog Blues, Rocky Top, Sourwood Mountain, Reuben, Long Time Gone intro, Ten Plagues, Turantulla, and Whiskey Before Breakfast. I really need to start focusing on just 2 or three things so I can move on.
---
3 comments on "Too Much On My Plate"

banjotef Says:
Saturday, September 26, 2009 @5:46:08 PM
Patience....it will all come together. Even Jim Mills said in an interview, "When you start off, you want to learn everything you hear."

pete hobbie Says:
Saturday, September 26, 2009 @6:56:08 PM
When I first started playing banjo I worked hard to "get " a gajillion tunes on my tune list ,now I have to work harder to delete them from my muscle memory so I can play them the way I'm able to play them now.....take your time, it's all fun.
Pete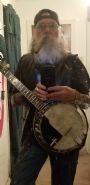 5stringpicker2 Says:
Sunday, September 27, 2009 @12:22:49 PM
Yep! do 1 thing do it good then move on. I my self learn 1 song at a time then move on to the next. your method I like being a Jack of all trades & a master of none. 1 @ a time then move on it works ! try it you'll see. Peace
You must sign into your myHangout account before you can post comments.