Posted by oly on Wednesday, September 23, 2009
Well my wife made it through the hip replacement surgery with no problems. She's recovering very well, already walked 60 feet, She'll be in the hospital a few more days.(gives me a chance to catch up on the dishes) I went back to work so I guess all is back to normal. Thank the Lord!
---
4 comments on "succesful surgery, now back to normal."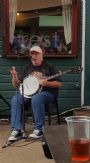 joemac Says:
Thursday, September 24, 2009 @1:12:05 AM
Amen bro, well done, now kick back a spell.

Gary Blanchard Says:
Thursday, September 24, 2009 @7:43:29 AM
Glad to hear that all is well. I know she can't wait to get back home so you can seranade her.

Moonpie50 Says:
Thursday, September 24, 2009 @9:39:26 PM
Read your post on lynn's banjo camp north. I hope all is well with your wife. I am a nurse and I use to work on a rehab unit at the hospital. Hips and knee surgeries can be rough sometimes. But nothin that a little banjo pickin' can't cure! I just picked up the banjo a couple months ago. Making some progress to my suprise! I really have been enjoying it alot so far. I have met some awesome people who pick so far.

oly Says:
Friday, September 25, 2009 @5:11:19 AM
Thank you guys, she is doing very good, walked over 300 ft' yesterday, no word yet on when she'll be able to come home as far as serinading her, singing would be a violation of my parole conditions :)
You must sign into your myHangout account before you can post comments.