I went to the Didmarton Bluegrass festival here in England this past weekend and the Mountain Heart band was the headliner band. Whoa! They rock!
We had a great time at the festival, seeing friends we don't see but a few times a year. Had some great jams, heard some fantastic bands - British, Swedish, and American. Beverly Smith and Carl Jones were among them - one of my favorite duos.
One more bluegrass festival coming up on the 18 - 20th of September in Cornwall. Last festival of the season. Always a good venue and a bittersweet goodbye until the next year.
---
5 comments on "Mountain Heart rocks!"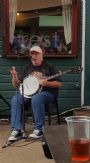 joemac Says:
Tuesday, September 8, 2009 @5:31:05 AM
Yep Jody, a brilliant weekend!!!!!!

Banjo Island Says:
Tuesday, September 8, 2009 @7:45:01 AM
I wonder if it's specifically a british thing, but I really love it when the visiting bands seem to "get" the spirit of Didmarton. As per the following video:-

http://www.youtube.com/watch?v=cd-gOMRCH4E

Which was my favourite moment of the festival. :)

Derick Winterbottom Says:
Wednesday, September 9, 2009 @2:27:58 AM
Hi Jody,
Bluegrass Festivals are popular i Australia,and have a god following .Beechworth Victoria a great Festival and all Aussie bands and pickers ,great jam sessions both B/G and old timey Looks like you are a clawhammer / frailing banjo player.You would go weell down under .Harrietvllie ,victoria in November attracts a couple of USA bands B/ Grass and old timey.plenty of concerts workshops ,spontaneous jamming etc. not much sleep. Weather should be great sunny but cool in the mornings and evenings.
Best Wishes
Derick.

TMarshall1 Says:
Friday, September 18, 2009 @7:37:10 AM
Hey Jody!
Are Bluegrass festivals there typically all BG or are there smatterings of Celtic sprinkled in (I LUV Celtic - smacks of early Appalachian music)

Your New Pickin Pal
Tony

flowerofthewest Says:
Monday, September 21, 2009 @2:21:14 PM
Tony,
Bluegrass festivals in England are typically bluegrass and a bit of old time mixed together. People jamming on the fields might throw in a bit of Irish music, but I have never heard a Celtic tune/song on stage.
Funny you ask about typical bluegrass bluegrass festivals here in England... I was asking Carl Jones (of the Beverly Smith & Carl Jones duo), who was here at the Didmarton festival performing, what the 'typical' bluegrass festivals in the USA were like. I never attended one while living there because I didn't get into bluegrass music until I moved here.

Jody
You must sign into your myHangout account before you can post comments.