Posted by lapso77 on Wednesday, August 19, 2009
Just noticed my last entry here was Christmas Eve - loads changed since then
I can even play a little better - ha ha
So been back from Acoustic Music Camp Dallas for a few days now. Tuition was great this yr - had the first day with Eddie Collins - he was ok, a bit theory based etc. Had the second day with Tony Trishka - learnt loads of bluegrass tricks & really appreciated his syle of teaching......then the last day with Jens Kruger - what a guy........amazing player....I was really nervous, but a top bloke....what a speaker. Can't believe we did soo little playin, but were all blown away by him. It wasn't that he was playin at us either - he just spoke and we listened in awe. After, some guy said to me ' that wasn't a banjo lesson, that was a life lesson', and it was so true - have to admit I skipped the last class with someone else, cos it felt like there was nothin else to be said
Then headed down to Bandera for 3 days. it was odd - kinda felt like I should be headin home. I just booked a bit of time at the Mayan Ranch there, for the only reason that I knew I'd hav a cabin with a porch.......the thought of playin banjo on my porch was too much to resist. As it turned out, I stopped in town to ask directions, met a guitar player, and then we jammed that night and one after. Havin never had the opportunity to play wiv anyone before - this was a kind of dream come true. I even uploaded a bad vid here as proof.
Turned into the typical mayan tourist, riding a horse to get breakfast etc - don't knock it - what they do - they do great.................oh yeh & by the last night when some guy comes in wiv a longhorn cow sayin ' who will ride her ??' and no-one did.....I said ' I will....' Great fun, great memories, great people.............can't wait to do it all over
---
4 comments on "Just back from texas"

muntjac Says:
Wednesday, August 19, 2009 @11:40:18 AM
You luck lucky person. Jealous you bet. Glad you enjoyed your visit over the pond.

peghead59 Says:
Wednesday, August 19, 2009 @1:14:45 PM
Hey Lorraine. It's great to hear from you again. I was wonderin' what you were up to. Seems like you had a great time, and I love that video. You're playing really well.

Cotton-eyed Joe Says:
Wednesday, August 19, 2009 @2:15:42 PM
Lorraine,
Sound's like you had a great time... And the jam went well...
'appy pickin'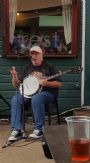 joemac Says:
Wednesday, August 19, 2009 @8:52:49 PM
Hi Lorraine, glad you had a great time and also glad your home safe!!!!!!!!!!
You must sign into your myHangout account before you can post comments.