Posted by jrjenks on Sunday, August 2, 2009
Why was the last weekend in July the best weekend ever? Let me count the ways.
I finally saw Earl Scruggs perform. Remember last year when I was so excited about going to the Four Corners Folk Festival to see Earl Scruggs perform? And how disappointed I was when Earl was ill and had to cancel, last-minute? Well I finally got my chance to see Earl.
How did this happen?
My friend Warren scored RockyGrass tickets, backstage passes and a hotel stay. Warren, a great banjo player from Colorado, is a long-time friend of the Scruggs family. He did the tablature for Earl's book and, as you'll recall, he filled in for Earl when Earl was ill at 4CFF. The Scruggs family had tickets and VIP passes to RockyGrass which they gave to Warren, then Warren gave one set to me.
That's me, Kyle and Warren at RockyGrass. More on Kyle later when I talk about my new Nechville banjo. (That's right, a new Nechville banjo. I did mention that this was the best weekend ever, right?) But first, more about that hotel stay I mentioned, which resulted in...
I had breakfast with Earl Scruggs. Since we were staying in the same hotel, I got to have the free hotel breakfast with the whole Earl Scruggs with Family and Friends band. I asked Earl if I could have a photo as proof, since I could hardly believe it myself.
But enough about my stalking of Earl Scruggs (with family and friends). RockyGrass was so much fun, it'd have been great even without the extra helping of Scruggs goodness.
More RockyGrass highlights:
Showing off my sawed-off banjo

Strangers sharing their funnel cake
Vocal harmonies workshop with Anne & Pete Sibley
Constantly being mistaken for Vince Herman of Leftover Salmon ("Dude, it was five in the morning and you had that woman dancing on that cooler, remember?")
Tom Nechville teaching me how to loop back the string on the banjo peg so it doesn't slip
Quietly sitting off to the side, playing chords on my banjo, along with the band
Taking a hike while playing my banjo
Best weekend ever.
Cross-posted at J.R. Jenks' blog
---
5 comments on "Breakfast with Earl Scruggs. Rockygrass. A new Nechville banjo. Best weekend ever."

banjotef Says:
Sunday, August 2, 2009 @5:03:04 PM
Too COOL for words!

jrjenks Says:
Sunday, August 2, 2009 @6:03:37 PM
Oh, I KNOW!
I almost feel guilty just posting about it, it was so out-of-this-world wonderful.

rtyrie Says:
Monday, August 3, 2009 @1:10:03 AM
What a banjo grand-slam weekend! I am sooooo envious.
Ron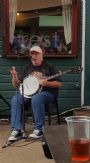 joemac Says:
Monday, August 3, 2009 @2:07:36 AM
Amazing, well done what a great blog and wonderful time you must have had......priceless.

TopCat Says:
Monday, August 3, 2009 @11:35:06 AM
Yes, excellent blog, thanks for taking the time to share your good times.
You must sign into your myHangout account before you can post comments.