I flew into Frankfurt on June 15th with my daughter Missy, and was picked up by the singing banjoman from Jena, Andy Glandt. He brought us home and force fed us Irish Whisky til we ran out and the next day we finally congregated at the famous Fox tower. Our Jam there consisted of several of Andy's picking pals, and a Tuba Player, no less, Great Jam in the restaurant. Pictures chronicling this trip will soon be available for viewing and downloading.
After Leaving Andy and Beatta, we drove to Oliver Waitze's Store in Solingen for a little banjo workshop with a few local enthusiasts, We did some business and ended the night with food and wine at Oliver and Bettina's house.
The next day we went to the Netherlands and dropped our stuff at a customer's house, we continued to Amsterdam to see the sights, and then back home to Jaap Margary and Hilde's house for a nightcap. Jaap had a great jam planned for the next evening, and we spent the day biking around Eindhoven, Later that night we closed the bars with a famous lighting architect who was quite the party boy.
Our trip continued to Namur Belgium, where there were about a dozen people waiting to see me at the home of Steve Louvan. We had a nice little banjo demo there and I did some banjo set-up work and delivered an instrument to another Belgian, Andre Simon. Later we rehearsed for my other daughter Leslie's wedding, since steve and his trio had agreed to join me as the live entertainment at the wedding dance. We left Steve and his wife with fresh strawberries and jam from there and headed toward Strasbourg for a week of wedding festivities in the pristine countryside of northern Alsace, France.
The week in Alsace was filled with great food, wine, friends, music, perfect weather, lovely landscapes, wildflowers and wild naked French boys galloping in the wheat fields.
Our departure from our new inlaws, Sylvia and Bernard Schimtt, the married couple, Leslie and Lionel and all our new friends was sad, but we vowed to see them again soon.
We drove to a friends house in southern Germany along the lake Bodensee. We were treated like family by Oliver's mother in law, Marlese while we stayed at Cordula's house, (her daughter and sister in law of my Solingen dealer).
We did another banjo workshop and sold a few things at our Swiss dealer, Franz Elsener's Musichaus Saitensprung. We made to to Geneva, after spending the day around Schaffhaussen Switzerland, and the night in a little hotel along the way. We had lunch in Geneva before dropping our car at the French side of the Geneva airport, Which is impossible to find.
Our next stop was East Midlands England via Easyjet. We were greeted by Guy Rogers who cheerfully toted us to a nice Bed and Breakfast Bluegrass bar where more pickers were eager to jam and see the latest Nechville innovations. Guy brought us to a Eagle Music store where we sorted out some things and paved the way for future UK sales, then proceeded to North Wales for a whopping good Bluegrass festival. We celebrated Katherine Selby's birthday and toasted with John and the Carter Brothers. It was great to see Malcom Johns, and some old friends from Cornwall Like Richard Webster and Carol. What a fairy tale land that was, I hope to go back there.
Jane and I barely made our flight out of Liverpool to Nice France. We waited in the plane and waited again for hours to pick up another rental car, but finally arrived at our nice hotel room at the Windsor.
The next day We paid the hefty fee to sit in a beach chair in Nice, You cant sit on the beach, it's too rocky, but beautiful none the less. That night we had a nice dinner in Menton, and stopped by Monoco and Monte Carlo at night. What a spectacle! The next day we went to Aix en Provence to stay at an old house B&B where I actually had sort of a Banjo gig. I was asked to play for the house apertiff party and in return, I got to pay regular price for the room. (they were going to stick me).
The next day involved a long drive to Biarritz France, on the Altantic coast near Spain. We were picked up by our Basque friends Urbil and Dany and Cristina, who took us to the most wonderful cottage in the mountains, Ideal weather stayed with us, and we enjoyed the flowering trees, Ivy on the palms, Colorful bursts everywhere and stunning mountain views, We spent a few days there eating fresh grilled Tuna and seafood Paella, fine wine, and constant jamming. The climax of our jamming was a Friday night at Urbil's dad's bar. Lluis Gomez and friends and I put on a nice show. The towns in this area are all picturesque antiquities, We went to Bilbao and saw the Guggenheim museum, and stayed at Titi and Esti's house before heading to Barcelona with Lluis, Maribel and Manolo. We had a wonderful jam at a Barcelona pub that night, Spent some time the next day at Guitarland with crazy Richard deSilva, doing some banjo demonstrations and jamming. We went out for tapas and pinchos and beer. I wish I could have stayed longer, but I made the long trip home exactly one month after leaving.
---
3 comments on "Nechville Does Europe"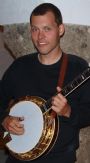 Violanjo Says:
Saturday, July 18, 2009 @3:06:26 AM
Hi there,
Next time you jump over the ocean you should come to Salzburg. I will show the city and after that we could spent some time picking the banjos.
Cheers
Manuel

BARNAGRASS Says:
Sunday, July 19, 2009 @3:44:42 AM
hey Tom:
I am glad that you enjoyed your visit to Barcelona ;-P
thanks for "crazy" motto LOL
keep pickin´
Richard

Hillbilly Gypsies Says:
Tuesday, July 28, 2009 @1:51:32 PM
Sounds like a GREAT trip Tom! I am looking forward to spending a month in Europe with Jamie Lynn in November! We FINALLY get to take a honeymoon after all these years!! haha.. Alos can't wait to hang out with "Crazy" Richard in Barcelona too!!
You must sign into your myHangout account before you can post comments.