Hi Guys,
This weekend was the 21st North Wales Bluegrass Festival, I have been attending this festival since I was two years old, however this year is the first that I have been playing in the band there.
The festival is different to most others because the main stage is situated in a rarther lovely theatre and has a great atmosphere as you would imagine. The festival is run by two very special people, John and Gill who work tirelessly all year round to make the festival as good as possible, putting together a great international lineup, with bands from all corners of the British Isles, America and this year Italy.
This was the first time I had been on a stage with the Down County Boys (and with a Banjo) outside of our local Bluegrass club. In the dressing rooms I was quite litterally quaking in my boots I knew that Alan Pearce (the guy that taught me) along with my Mum and a huge number of other people were in the audience that had never heard the band with me playing with them and were expecting big things (lots of pressure!!)
The Huber rang like a bell and as soon as I nailed my first break in our first number my nerves disipated and I relaxed and began to enjoy the occation. The set went down like a storm and everyone I spoke to (or overheard talking with others about our performance) was very complimentary of my picking and the sound of my banjo! (although im not an egotistical person I can't help but be pleased by that; so please excuse my excitement.)
To add to an already succesfull weekend, I was also absolutely blown away when I was asked by the festival organisers to take the Bluegrass Banjo workshop on the festival site on saturday morning! This was another huge confidence boost when you keep in mind that this was the first time I had been on the bill at a bluegrass festival.
So a very succesfull and incredibly enjoyable weekend yet again! Huge thanks to John and Gill for making the event possible, I can't wait for the next one!
I have included a video clip of the end of our set, I appologise for the slip at the end of the second break, I'd love to say I was trying to do something imaginative but it was just a plain old mistake hahaha. Any Comments more than welcome.
Happy Pickin'
---
4 comments on "My first BIG gig 21st North Wales Bluegrass Festival. Now with added video!!!!!!"

HookedOnBluegrass Says:
Saturday, July 11, 2009 @6:19:56 PM
Yea Man good sounding Huber. Is that a standard Lancaster?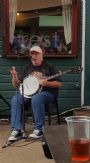 joemac Says:
Sunday, July 12, 2009 @1:33:50 AM
Be proud Chris, very Proud i know how hard you are working and that you've only been playing a short time, that was spectacular.....Joe

TopCat Says:
Thursday, July 16, 2009 @4:19:29 AM
Excellent Chris, you can certainly hold your own amongst your fellow DC Boys, I thought that was great, clean picking. Well done you!

jdluke Says:
Friday, July 17, 2009 @5:01:56 AM
Hi Chris, i have seen your performance on stage and i like a lot your playing clean and solid, just what i love.And i like the tone of your Lancaster too. But i'm partial as you know, ha ha. Please pass my compliments to the rest of the band. Great performance hope to meet you again in future. Ciao Luca !
You must sign into your myHangout account before you can post comments.