Posted by jimh269b on Saturday, July 4, 2009
well got 90 now have to put 12 more on. one of the is james smith known as smitty ,he wasnt real sure until i showed him how to dowm load his songs,or rather help him get started that way,smitty is good fellow and wanting to learn and he will,but anyway just about done with all my tunes,thank all you guys for your help,and smitty keep picking you will be a goodin
---

fisher Says:
Sunday, July 5, 2009 @8:25:41 AM
Jim,I really enjoy your pickin.Hope you dont mind if I practice to some of your stuff.Jerry

banjerman Says:
Sunday, July 5, 2009 @8:30:26 AM
Always enjoy your pickin Jimmy. Keep er going man.

smijmk Says:
Sunday, July 5, 2009 @2:54:21 PM
Thanks Jim for helping me, and I hope you will continue to help me ....You are one of the finest banjo pickers I have ever heard, and I really appreciate you taking the time to sit down and try and show me stuff....It really means alot to me...Hope you've had a good July 4th....Smitty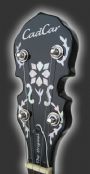 CadCar Says:
Monday, July 6, 2009 @6:18:27 AM
Some nice pickin Jim there Jim. Keep up the good work.
You must sign into your myHangout account before you can post comments.