Posted by dgill on Saturday, June 6, 2009
My wife and I have been married 27 years and I never thought I could love another, but I have to admit, I am in love with Stella. Stella is my Sonny Osborne Recording King banjo. She makes me happy and gives me great joy as does my wife Sherry.
I am learning well, or at least I think I am. I have a great instructor that motivates me with her encouraging words and by sharing her great talant with me. I feel like I am playing better and not only are my hands and fingers being trained, but my ear is also improving.
I am nearing the point wear I want to post some of my songs for you to hear, remember that I am a beginner. I think it is important to get them out for you to hear so you can offer you input, advise and opinions. I have said this before, but I am very grateful for each minute of your time that you offer me. Nothing that has been said to me that I have not taken very seriously and I am a better person as well as player for it. Thanks to all and live as if today is your last.
---
4 comments on "I Never Thought I Could Love Another"

Jon Eric Says:
Saturday, June 6, 2009 @10:36:42 PM
Congrats!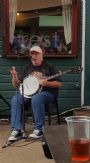 joemac Says:
Sunday, June 7, 2009 @2:25:56 AM
Hey Donnie, good luck with your lovely banjo and thanks for your kind comment on my music page. Time to get recording mate, cant wait to hear ya, thanks , Joe

Camo Girl Says:
Sunday, June 7, 2009 @1:03:11 PM
congrats oh and thanks for lettin me go fishin it was alot of fun:-)

skeller77 Says:
Sunday, June 7, 2009 @6:02:32 PM
Hey Donnie, glad to hear things are going well, can't wait to see or hear your first video, take care. : )
You must sign into your myHangout account before you can post comments.