I think nearly every son thinks his mom is the best in the world, Well, mine was no exception. Now that she's gone, I remember her for who she was before her memory left her. Even when she didn't recognize me, she was cordial and polite, a perfect lady, and nice to the bone.
She helped me get started in the banjo business, she even polished Helimount frames and travelled with me to Owensboro in the early days of IBMA, She wrote letters and learned to work the data base on my old Apple GS. I certainly will miss her. I rejoice though that she is now free and her inspiration continues to energize me.
---

maximomark Says:
Thursday, May 7, 2009 @2:13:06 PM
Sorry to hear about your loss, Tom. Mine is going through that right now. Don't know how to relate any more. Take care and someday I'm going to buy one of your banjos!!

frailin Says:
Thursday, May 7, 2009 @2:27:30 PM
I'm sorry Tom. My mom is now in the final stages of Alzheimer's. I understand your loss... and celebrate that your mother passed with dignity.

Craig

HoosierGal Says:
Thursday, May 7, 2009 @5:29:43 PM
Her spirit lives in you my friend.

...thinking of you all,
Karyn

gkuchan Says:
Thursday, May 7, 2009 @5:59:28 PM
There is nothing like when a boy looses his Mom. All of a sudden you're five again, and no one's there to make it better. Having lost my Mom, two years ago, I'd like to tell you it gets easier, but to be honest, it just becomes more bearable. My thoughts are with you. -Grant

zeke_w15 Says:
Thursday, May 7, 2009 @8:06:00 PM
Our thoughts and prayers are with you and yours Tom..

Pepper Laing Says:
Friday, May 8, 2009 @5:23:22 AM
She sounds like a wonderful lady, who raised a wonderful son.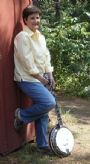 Banjosnob Says:
Friday, May 8, 2009 @2:09:16 PM
She is listenin to you and sayin, ahhhhh, what a great son I have!
Ottawa Says:
Sunday, May 17, 2009 @4:59:49 PM
Sorry to hear of this Tom. Continue to honor her in all that you think, say and do.

dpete210 Says:
Tuesday, May 19, 2009 @9:07:48 PM
Condolences, Tom. My mother was an inspiration to me and a part of me left with her when she passed away. We men owe so much to our mother. I can only imagine how proud she was of you and your innovations! I don't doubt she even had a few ideas she ran past you :) God's peace. Dave Peterson Riverton, MN

wvbanjopicker Says:
Monday, May 25, 2009 @11:02:45 PM
Im sorry to here about your loss Tom my thoughts and prayers are with you and yours.
God bless

uncledaveh Says:
Wednesday, June 10, 2009 @6:43:27 AM
Tom - I just read about your Mother and I want to offer my condolences. I lost Dad last year and Mom two years before that, so I know it's very hard. Dad was the reason I first started on the banjo. I will keep you in my prayers.
You must sign into your myHangout account before you can post comments.