Posted by dgill on Wednesday, May 6, 2009
Hello to everyone and I hope this finds you all doing well. I have now completed 4 lessons with my instructor and she is very helpful. I think she gets frustrated alittle with me not being as naturally musically talented as others, but I am sure committed to doing all I can to learn.
Working on a different version of Bile Them Cabbage Down, than what I learned before but it sounds very nice and I think I like it better. Practicing every day and fingers and hands are feeling better. For a while there I thougth I may need to see a Dr., but they are not hurting like they had been. Practicing the rolls at different speeds is most of what I have done for the last four weeks. I hope it pays off, because it gets alittle boring.
I think I may need to replace my strings, I am starting to have to tune more often and the sound is not as crisp as it was. Could that be the problem? I sure enjoy the banjo and all the friends I have made and can only say that when I get to where I can offer my help to others, the way you all have helped me, I will surely do it.
Thanks to all and enjoy life while we have it.
---
7 comments on "Progress Report"

kcjc69 Says:
Wednesday, May 6, 2009 @4:33:21 PM
I'm glad there are others out there that aren't naturals! All of us "unnaturals" have been exactly where your at. The good news is your playing and enjoying yourself. Keep at it!

skeller77 Says:
Wednesday, May 6, 2009 @4:33:39 PM
Hey Donnie, if you are playing alot I'd say you need new strings, I change mine about every 3 months or so. keep pickin' and have fun that's what it is all about. take care. : )
Scott

jeremy blankenship Says:
Wednesday, May 6, 2009 @6:23:00 PM
Donnie,
Glad to hear you are getting some good lessons. The roll practice gets boring but is crucial to playing well. Keep at it and you will improve. Tuning problems are almost always strings needing changed. I change strings once a week but that is crazy LOL. Slap on a new set and get back on it. Good luck talk to ya later.
Jeremy

PruchaLegend Says:
Wednesday, May 6, 2009 @10:59:01 PM
Your teacher won't be frustrated WITH you if you are practicing and working at your lessons. She may be frustrated FOR you because she'll want you to succeed. When I was teaching school, I only got frustrated with people who were not trying to get the material and then complained that they did not understand anything. I'm willing to bet your teacher will work really hard for you if she knows you are working really hard too. That's what my banjo teacher does.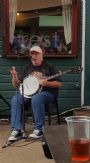 joemac Says:
Thursday, May 7, 2009 @3:17:03 AM
you may find that your strings need changing, but also your ear is developing as you go and you will become more picky with the tuning do to your new sence of hearing tones more.....its common.

jimh269b Says:
Thursday, May 7, 2009 @5:27:54 PM
i use a light guage sting donnie, vega is what i like they are easy on your fingers and you can pick for hours good luck keep pickin jim

dgill Says:
Friday, May 8, 2009 @5:38:31 PM
Thanks guys for all the input and well wishes. I appreaciate it very much.
You must sign into your myHangout account before you can post comments.