Posted by French on Friday, April 24, 2009
I don't usually blog about anything, but as the banjo has been such a great daily adventure, I thought I'd start. I've only got a few friends on the Hangout so far, and who knows if anybody'll feel like reading, but what the heck. I'll talk about my brief history with the banjo at some point, but to start off I'll talk about something that happened today. I live in New York City, in a beautiful apartment which happens to be situated directly above an emotionally unstable landlord. A shame, because my gal and I have done some great work to the place, but we have a lurking presence below us who likes to scream. About everything. So playing a banjo, however quietly, is met with a whole lot of ire from She Who Shall Not Be Named. It has been a long winter because of this, since virtually every time I sit down to play I feel a bangin' on my floor. Now that the weather has warmed, I've taken the high road and made my way to a local city park. It's next to a school, so there's a big playground, a couple of half-courts, even a street hockey rink. Nestled in the middle is a nice grouping of benches, a perfect place to pick. I'm often surrounded by folks from all corners of the world who nod to me when I take a seat, and who (so far) don't seem to mind the goofy young man walkin' the streets with a banjo. A recent trip to the library rewarded me with the beautiful book, Old-Time Mountain Banjo by Art Rosenbaum. Among the many treasures inside its pages is a section in the back of tunings. Having just discovered Roscoe Holcomb, I was jazzed when Rosenbaum offered Holcomb's tuning of On Top Of Old Smoky. The banjo is tuned f#ADAD, with the 4th and 3rd strings tuned an octave lower than their counterparts on 2 and 1. A wicked sound. So with my cheap-o Morelli barely able to maintain the tension required for this wacked-out sound and my iPod on my ears, I was able to work out the roughest of sketches, learning Holcomb's melody and frailin' away. Eventually I'll try to match Roscoe's brilliant mix of up and down-picking...if that's even what it is. I rapped away for a while, quietly singing to myself and letting out a sigh of relief that no one was slamming a broom handle against their ceiling. Maybe she was, three blocks away... Then the kids showed up. A young boy on a bike came screeching to a halt in front of me. His first question: "Are you practicin'?" Made me realize that I must have an expression you can read a mile away - STILL LEARNING. PLEASE BE PATIENT. The young fella was joined by a friend who politely asked if he could try. My banjo means the world to me, but it ain't expensive, so I had no qualms handing her over to the youngster. I made sure he sat on the bench, showed him how to hold it, and even though Roscoe's tuning is an unfamiliar one, it's open, so a simple (and let's be honest, incredibly hard) strum was enough to elicit a satisfied "Awesome!" from the kid. Before long we had quite the crowd gathered, and the banjo was passed from hand to eager hand. They asked me all sorts of questions, wanted to know why it looked the way it did, and became mesmerized by my electric tuner. Pretty soon it became less about the banjo and more about watching the gauge on the screen go back and forth. But eventually the instrument was passed back to the big kid. Awesome asked me to play the song I'd been playing when he came over. "Watch him! He can make it make a song!" I asked, "You know that song, 'On Top of Old Smoky'?" A few nodded hesitantly. "Well, this is that song, but I bet you've never heard it like this." I'm not trying to brag, but those kids thought I was the best banjo player in town. Let's hope no one who can really play ever walks by...
---

Koala_in_pjs Says:
Friday, April 24, 2009 @6:47:33 PM
If someone who really can play does walk by I'm sure they'll stop and nod thier approval and remember when they were starting out.
Keep pickin and having fun.
Kip

zeke_w15 Says:
Friday, April 24, 2009 @7:45:39 PM
Steve that is a great true story...I enjoyed it......Thanks..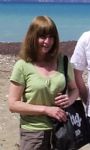 u k sandra Says:
Saturday, April 25, 2009 @1:40:09 PM
I bet you felt on top of the world. I would have.

banjosam Says:
Thursday, June 4, 2009 @6:05:45 AM
So many of us don't realize how lucky we are to be able to play just about any time we want. It makes a person think/appreciate all the freedoms we have - not just banjo playing, but everything here in the USA. Lets keep our guard up so we don't let anyone take it away! Keep up the good work!

wrentree Says:
Monday, August 31, 2009 @5:10:57 AM
Well Steve, you might have a little ways to go but you can surely make it as far as your namesake Steve Martin, given the time. Best to you. I know I couldn't live very long with someone who could make more noise protesting the noise that is bothering her, living that close. I feel for you. Harold
TN_Picker Says:
Friday, December 4, 2009 @4:52:28 AM
Great story Steve. :)

banjotom2 Says:
Friday, May 7, 2010 @9:42:46 PM
Steve,
You're a talented writer...
If nothing else...you should continue to collect ' banjo experiences' and write about them here on the BHO!
Good reading!
Tom
You must sign into your myHangout account before you can post comments.