with Arnie Naiman, Chris Quinn, and Brian Taheny
We are all set to make that awful noise once again
! Come out
to hear great Irish, Old-Time and Bluegrass music played in style by three of the country's friendliest
banjo
guys
.
When: Friday April 24th 8:00 p.m.
Where: The Brampton Folk Club
Sanderson Hall at St. Paul's United Church
30 Main St. South, Brampton Ontario
Phone or
email
for reservations Tickets: $12.00 in advance
Phone:
647-BFF-FOLK (647-233-3655)
Tickets are also available for $13 through the City Theatre Box Office (905-874-2800).
Enter through the rear door of the church, off of John St.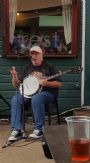 joemac Says:
Monday, April 13, 2009 @1:24:22 AM
Wish i could join you all Arnie, maybe one day, have a great time......Joe