I read an interesting quote that says an amateur musicoian plays something until he gets it right but that a professional musician plays a song until he can't play it wrong.
I will never be a "professional" that performs at concerts, etc but I do want to be professional in my quality of music and this quote taught me an important lesson.
---
5 comments on "The difference between an amateur and professional musician"

clio Says:
Wednesday, April 8, 2009 @12:55:31 PM
Perhaps that definition works for players in bands, where each performer knows what happens next. But I seldom play the same song the same way, preferring a freer style. I think this may have been true of Earl also. What say ye?

banjotef Says:
Wednesday, April 8, 2009 @4:27:57 PM
Earl actually did say, he rarely plays a tune the same twice. I think that "professional" is an attitude, and a mind-set that you bring to your task, whether you work at it as a career or hobby. You can be a part-time professional.

Guy Says:
Thursday, April 9, 2009 @3:36:40 AM
I think if you wait until you can't play something wrong, you'll never be a professional. Being a proffessional is having a 'can do' approach in my book.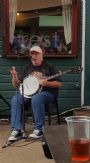 joemac Says:
Thursday, April 9, 2009 @4:07:18 AM
For me being professional relates to the way i approach my music. It is a very important part of my life as is the instrument i have chosen to expresss myself with. I enjoy the very fabric of sitting working on my tunes and get extreme pleasure when i acheive a good end product. this can only be done of course to the best of MY ability, that is something we all differ in, (level of ability). My instrument care is also very important. All that said, i equally enjoy doing concerts or sitting in with begginers. Money alone does not make a pro. Miles Davis was asked once what he looked for in new band members, what helped him decide. his reply was that he looked at the way the player took his instrument out of its case, take it out with love and you will play it that way too. i guess what i am trying to say is adopt a professional attitude in all your musical being.

Don Borchelt Says:
Thursday, April 9, 2009 @4:50:41 AM
I think the quote is being taken to literally. I think the point is that a true professional plays with consistency, giving his or her best at virtually every performance.
You must sign into your myHangout account before you can post comments.