Posted by wolfSV on Monday, April 6, 2009
First let me start by saying that this is my first blog anywhere ever. I feel like I actually need to write about this so let me just get caught up to where I am now. I have always been sort of fascinated by the banjo I have grown up in Texas on the gulf coast but I am originally from Tennessee. I used to spend every summer in Tenn. We are from a really small town there and used to go to these town festivals and little jam sessions. To me Tennessee was sort of a mythical place. In my mind I have always thought of it as being inhabited by little gnomes living by mountain streams near moonshine stills. (Maybe the moonshine was why there were gnomes in the first place but who knows) I thought that it should be full of hillbilly's and that everyone sat on the front porch and played the banjo.(hey I was A little kid) and of course I did see some of that but for the most part it was just a bunch of good old country boys huntin fishin and fourwheelin. As A result when I was at home here in Texas some body would always call me a hillbilly and I would say hell yea. That being said I felt like the banjo speaks to my soul. (At least that's what I told my wife when I said that I wanted to learn to play the Banjo).
I have listened primarily to heavy metal music for the last 12 years or so and most of my friends listen to metal so I don't get much support on my choice of instruments I discovered Hayseed Dixie and then Iron horse and I really loved that sound it was awesome that someone would blend rock and roll and bluegrass together from there I was sort of reminded of the fact that I really kind of liked bluegrass music. I was talking to A friend of mine one day trying to show him some of my bluegrass music that I had collected (at the risk of being ridiculed of course) I happened to mention that I would like to play the banjo he said me-too … I was like what? Really. Just like that I suddenly had validation for my desire my next words were you know what I going to get one and start get learning. That very night I started doing research on Banjos (That was the night that I discovered this place) I researched banjos for A week strait my wife thought that I had gone crazy and still does I'm sure .I was scheduled to have surgery the next week and was going to have some time at home so I convinced my wife to let me get one right away (had found A deering Goodtimes II at guitar center for 200 bucks) she said go ahead and well here I am now.
---
9 comments on "My Banjo Journey"

jimbowe Says:
Monday, April 6, 2009 @8:23:57 PM
Apparently wives thinking you are crazy goes with the banjo! Mine thinks I went nuts when I told her I was thinking about learning to play. I have to constantly remind here that she was the one that got me a banjo for Christmas.
Have fun.

PruchaLegend Says:
Monday, April 6, 2009 @9:56:39 PM
Great story! You describe Tennessee just like I imagine it. (And, I mean that in a good way) I had a friend from Tennessee years ago when I was in the Air Force and he kind of described it like that.
Anyway, I'm glad to hear you got your banjo and I hope it helping you recuperate from your surgery.
Welcome to the journey that never ends.

Guy Says:
Tuesday, April 7, 2009 @1:32:35 AM
Ooh Oh! Once you've drunk the water from this well, no other water will taste so sweet. Great story Russell, might as well surrender now. I hope your wife likes banjo.
Guy

pilgrim1 Says:
Tuesday, April 7, 2009 @5:16:26 AM
Wife - let me think now. Is that the strange female creature in my house that keeps rabbitin' on about my banjos?
Roger

pandjlocke Says:
Tuesday, April 7, 2009 @8:56:44 AM
Sometimes think that I'm going to have to send my wife to a chiropractor the way she shakes her head at my BO (Banjo Obsession). Great story. have fun.

TopCat Says:
Tuesday, April 7, 2009 @1:27:55 PM
Great blog, welcome to your spiritual home... ;o) I too come from a rock background although I have been dabbling in listening to bits of bluegrass for quite a few years. The banjo is all consuming... sounds like you got a bargain on the Goodtime 2 as well!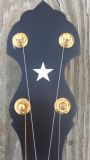 RWJonesy Says:
Monday, April 20, 2009 @9:34:22 PM
*** I have come a long ways too as far as my taste in music is concerned. The Beatles, The Dead, Led Zeppelin, Black Sabbath, Jimi Hendrix, The Doors, and Metallica, are just some of the bands in a long list that I used to I listen to heavily. I have been obsessed with old time music since I began playing the banjo. I have met so many cool folks and have had good times ever since. We all change in our tastes the older we grow and I will never regret learning to play the banjo. This journey has already brought me more joy then I had when I was partying being oblivious to many things. Nice deal on the Goodtime. $200 ? Welcome to the BanjoHangout brother !!!

John Kuhn Says:
Monday, May 11, 2009 @5:40:08 PM
Hey Russel,enjoyed the blog!I was a rock drummer and played gtr 10yrs before I discovered this insanity in 78. At 18,there was MUCH ridicule.When people ask you WHY (MY GOD..LOL) you chose the banjo tell them , I didnt .......IT CHOSE ME!

Gary Blanchard Says:
Thursday, July 16, 2009 @6:46:48 AM
Unlike many, I came to banjo from a folk-music background. Oh, I dabbled in rock, though I tended toward the more folk-rock sounds, but folk music is my first and enduring love. Like you, I felt I had no choice but to play. Thanks for the wonderful blog. For a first ever, you did pretty good.
You must sign into your myHangout account before you can post comments.