Watching the news can sure make me feel bad. I wonder if the good old days will ever return. Carly Simon once said "These are the good old days". That is so true. Anytime I look back on a fond memory from even a short time ago it seems like that was a special event in my life. The good old days. It could have been yesterday so why not today?
Remember that old song Money? It starts out saying the best things in life are free. That sounds crazy when you are strapped for funds but it really is true. The Beatles sang Can't Buy Me Love and with their money they would have known something about it I'll bet.
Music sure has made an impact on my life. Yours too or you wouldn't be here on The Banjo Hangout , reading this. It is one of the greatest gifts we have. It could be argued that playing an instument costs plenty. I'm talking about the benefit of the soul stirring feeling you get when you hear a moving sound coming from your instrument or someone elses. Either way, can you put a price on that?
I wouldn't trade that for any material thing myself. Also, the love you recieve from family and friends is worth an unmeasurable amount. That is another wonderful thing that doesn't have a price tag on it. I'm not saying we don't need money. We do and I wish everyone had enough to be comfortable in their life. There is something to be said for those precious comforts that are a given. My banjo gives me a world of pleasure every time I hear that comforting sound.
Let's enjoy our wealth and play a happy tune!
---
10 comments on "That Comforting Sound"

kcjc69 Says:
Sunday, March 22, 2009 @2:24:57 PM
Have to agree with you Darrell. Most of my fondest memories didn't involve a bunch of money being spent. By the way where are those happy tunes? I'm ready to listen when your up to posting.

blamethebanjo Says:
Sunday, March 22, 2009 @2:31:11 PM
Ha ha, I'm getting closer my friend!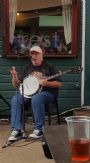 joemac Says:
Monday, March 23, 2009 @4:00:17 AM
It is so true, and life would be so empty without music. Ok i know we all have family we love and yet the private thing that happens between musician and instrument is so difficult to explain, i could never dream of trying to explain it. .Thats why we are so comfortable around other musicians......that unspoken bond.

blamethebanjo Says:
Monday, March 23, 2009 @4:11:29 AM
Exactly right, Joe! That bond is there.

Banjoist Says:
Tuesday, March 24, 2009 @8:41:01 AM
Well said, Darrell!

blamethebanjo Says:
Tuesday, March 24, 2009 @12:03:24 PM
Thank you Tom.

HisTreeNut Says:
Wednesday, March 25, 2009 @1:23:48 PM
Oh so true. A good word. Thanks!

blamethebanjo Says:
Wednesday, March 25, 2009 @3:11:04 PM
Thank you for your comments!!

Shorty Says:
Thursday, April 16, 2009 @10:15:05 AM
Hey Darrell, I Remember the Good Ole Day's, and how I learned to Love Music, I would listen to the Grand Ole Opry on an old Battry Radio that was about 24 inches Square, But that was yesterday, I hate to think about how our Beloved America has gone so Down hill , but GOD is stil on His Throne, I very much enjoy Reading your Blogs, Hope you are doing OK , You are still on My Prayer List !

blamethebanjo Says:
Thursday, April 16, 2009 @10:55:45 AM
Shorty, I feel like we go back a long way. I have always cherished your friendship. I always will.
You must sign into your myHangout account before you can post comments.