Hi folks,
I have just got my hands on my brand new Huber Banjo! It's a Lancaster and Im absolutely thrilled with it! Authentic bluegrass tone leaps out of the instument with tremendous volume. Playability is better than any instrument i've ever played and asthetically the instrument is truly beautifull.
I had the wonderfull opportunity of having the Lancaster and a Huber Berkshire at home to try out and evaluate over a period of time, (which meant I also got to take both to a band rehearsal to try them within the band!) both are fabulously crafted and sound truly fantastic.
The Lancaster looks to be plainer than the Berkshire to the eye, I chose the Lancaster because it has to my ear (and to the other four members of the band) a more authentic bluegrass sound, the berkshire has a hollower, somewhat brighter sound with alot more overtones.
I've been playing the lancaster exclusively for the last five days including a band rehearsal and I've only tuned it twice!!!! It hold its tuning perfectly regardless of how much it's played!!
Steve Huber has made a fastic instrument, and I'm proud to own it.
Photo's and sound samples to follow.
Happy pickin'
---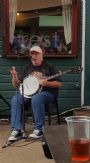 joemac Says:
Saturday, March 21, 2009 @11:55:19 AM
congrats Chris, now remember to name her and keep her close.........good luck.

Guy Says:
Sunday, March 22, 2009 @7:57:17 AM
Great news Chris, I'm really pleased for you. Are they the ones Dave Frets had, if so I think I may have played that Huber in Nth Wales and again in Cornwall. Greg Cahill was so bowled over by it he was very close to buying it at one stage. Now stop reading this and get pickin'.
Guy

Banjov1 Says:
Sunday, March 22, 2009 @1:44:50 PM
Great News Chris!
My cousin who's been playing for 40 years just upgraded from a 70s Ibanez to a Huber Lancaster last month and he's been bowled over by what a great banjo it is. Those Hubers really are ridiculously nice banjos
You are one lucky banjo dude
Tony
You must sign into your myHangout account before you can post comments.