Craig "Frailin'" Evans, well known in old-time music circles for his lyrical banjo style, is one of those folks whose circle just keeps getting better and stronger every day. Craig has gathered a circle of his musical friends to compile a collection of songs that conveys just how he feels about life. His amazing banjo is the musical thread that ties each musician and each song together.
Frailin' with Friends was produced for a special group
of Craig's friends--the online community at Autism Hangout.com. Autism spectrum disorder is a catch-all term for a wide variety of brain-development disorders. Families touched by autism face special challenges every day, and the support and empathy they can give and receive at the Autism Hangout makes life a little easier. Craig opened his circle to include those with autism, their families, friends, and caregivers, and is using the proceeds of the sale of the album to benefit this online community.
Frailin' is a busy
guy. He plays regularly with his two bands, Singleton Street and The Eelpout Stringers. Both bands and their widely differing styles are well represented here. Singleton Street is a quartet featuring Sherri and Chuck Leyda and Jimmy Newkirk that favors upbeat old-time gospel tunes. Their tight harmony, exceptional instrumentals and grinning delivery is quintessentially happy music. Of the four Singleton Street tunes on the album, the standout is "Red Clay Halo." It is simply impossible to listen to this bubbly arrangement of Gillian Welch's tune without tapping at least one toe. With voices that blend effortlessly in classic 4-part harmony without a trace of muddiness, "Angel Band" is a rich treatment of the 1860's era gospel standard. And the revival-style "Get in Line Brother" is a hand-clapping ripsnort of a ride.
Craig's exuberant clawhammer ba
njo fronts the Eelpout Stringers. Loyd Mitchell, Karl Burke and Nick Rowse fill out this quartet. The band takes their name from the Eelpout Festival, held annually on frozen Leech Lake in Walker, Minnesota. After entertaining the cold crowd with their fish-kissing antics, the foursome has been known to sing for their supper--busking a few tunes in exchange for a welcome hot meal and cold glass. The Stringers are masters of old-time standards and appear four times on the album. Their straightforward arrangements highlight the influence of ancient Celtic musical themes on traditional Appalachian-roots music. But Craig's musical circle encompasses more than classic old-time-genre foursomes.

The precise bass and rippling guitar of renaissance man David Tousley weaves through more than a few songs on Frailin' with Friends. Whether counter-pointing a fresh, plaintive duet arrangement of the ancient tune "Greensleeves" on guitar, or providing a strong thump of foundation for the camp-song handclapper "I've Got Two Hands", David is a versatile musician who understands the complexity of frailed banjo. His delicate, sparkling guitar enhances but never overpowers. (Beyond his performance talent, Tousley also mixed and mastered the album.)
The album's show stealer, however, is Debbie Sorensen-Boeh. She's a master fiddler and evocative vocalist. With a controlled hand and light touch on the bow, Debbie has found t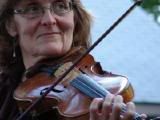 he Holy Grail of violin: a timbre and tone that parallels that of the human voice. Debbie started playing the violin at the tender age of 11, and trained in classical performance. After a decade's break to raise her family, Debbie again picked up her violin and took a bluegrass path. She discovered that traditional roots music allowed her to connect with an audience in the way she wanted to. "The thing I love most is cutting to the core of a song/feeling/story," Debbie says. "I don't like a lot of fancy stuff - I want something honest and unique." Honest and unique perfectly describes Debbie's stellar vocals on "A Mother's Dying Words To Her Daugher." Although the song title seems bleak for an album about the joys of friendship, Debbie's soaring, true alto raises this 1920's tune from maudlin to masterpiece. Reminiscent of American folk-music icons Hazel Dickens, Maybelle Carter, and yes, Joan Baez, Debbie's vocal performances exemplify old-time music while redefining it in a modern, relevant way.
Rounding out "Frailin' with Friends" are two tracks featuring Craig and his "festival friends." These impromptu, live recordings took place under a rain
tarp in a field in central Minnesota (it was a June festival jam), and embody all that is great about old-time traditional music. Fiddler Debbie Sorensen-Boeh, award-winning autoharpist Karen Mueller, singer/songwriter/guitarist Geoff Shannon and bassist Terry Sullivan join Craig in rousing renditions of "Soldier's Joy," a tune that dates at least as far back as the Civil War, and the old-time standard "Fly Around My Pretty Little Miss." The exuberance of al fresco jamming, artfully pre-mastered by Geoff Shannon, shines through these two songs.
Frailin'

with Friends ends with a solo by our Frailin' friend himself. Craig plays "Raising Arizona," a composition that begins with the theme from Beethoven's Symphony No. 9 in D minor, better known as "Ode to Joy." The song drifts into the Sons of the Pioneers "Way Out There"… an ethereal melody, set off by a wordless descant that brings to mind cowboys and vivid sunsets. Is Frailin's high lonesome cry a yodel? A prayer? A whoop of joy? Perhaps it's a call to music-lovers near and far, young and old, to join hands and form a circle: a circle of friends.