Posted by agerton on Thursday, March 12, 2009
I'm baaacck..... It sure didn';t seem like I've been away from the group this long. My how time flys. Had a few medical problems, recently, all taken care of now.
Able to get back to the "North Forty" and spend some outside time. It's been a while since I had the old banjo out of the case, but last night pulled it out and was surprised it didn't shy away from me, being a stranger and all. Got 'er all fired up, then realized the it's going to take a while to get back in the swing. Fingers just don't want to go where they need to be. Old "arthur" has bitten me in one of the left hand knuckles. At least it's a minor setback and I can live with it. Can't complain much knowing how some folks really suffer with this stuff.
I'm probably going to need some serious instructions to get back to playing again. I wasn't much before, but enjoyed the "plucking". Luckily, my old teacher is still active and available. Still can't fathom the patience limit of that man with students like me.
I think that's it for tonight. Hope everyone has a good "rest of the week".
Later,'
Tom
---
2 comments on "Back to Practice"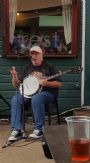 joemac Says:
Friday, March 13, 2009 @12:08:44 AM
Good luck to ya Tom!...keep pickin son.

agerton Says:
Tuesday, February 2, 2016 @4:52:50 AM
Back again! It's been a while. I plan to start over, again. I know it's a shame I didn't have the drive to keep up with my instructions, but I still love to "play" with playing my banjo. Luckily I can still put my hands on my instructors "homework" and maybe I can get a good running start at picking things up again. Wish me luck, a lot has changed in the past couple years.

You must sign into your myHangout account before you can post comments.