today it s to weeks ago since i bought my banjo, and in those past two weeks I have learned so much
first of all I learned that there is a reason banjo pickers actually use PICKS to pick their banjo. used to playing with four if not five fingers on the guitar, it took some adjusting, luckily my banjo has one less string so that helps with leavin at least ONE finger out of the game
bought a set of picks( plastic), and destroyed the thumbpick within a week because it was irritating and I tried to bend it LOL
got myself a set of metal picks ( dunlop) and to my surprise got used to those pretty fast
made my first recordings,..to listen back a year from now,..but even now i can allready hear the difference, after a lot of practise,..bought some lessons at jaybuckey.com because I don t have a regular teacher. and got addicted to this strange bed pan with strings attached and craving for more learning material. thank goodness we have the internet. ( and our VISA card)
decided to go to EWOB ( european world of bluegrass) which is in holland and has free camping on the the campsite, so we are going with the family, my husband the two kids and I. looking forward to three days of bluegrass music, finding some new friends, and maybe go to an occasional workshop where I ll probably be hiding in the back haha but it is always fun to see others learn, and I am bound to pick up some good advice there.
am also going to northernpicking here in the netherlands which isnt that far from my home, and will hopefully meet some nice people there. and am sure I ll pick up new things to learn as well
two weeks in the wonderfull world of banjo..what a blast!
it is great to be a banjopicker, even a not so good one LOL
---
1 comment on "been having a great time the past two weeks"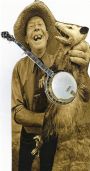 My Golden Says:
Saturday, February 28, 2009 @12:58:17 PM
Kris, sounds like fun! What great opportunities close for your whole family! You are on your way!
Terry
You must sign into your myHangout account before you can post comments.