Posted by frailin on Sunday, February 22, 2009
My, how quickly time flies! It was just a short February ago we were attending our 2nd Eelpout Festival in Walker, MN. And here it is, time again for our annual pilgrimage to the land of frozen lakes and ugly fish.
It was a bright Friday February morning. Gil had the Pout mobile tanked off and ready to go when the rest of us flounders rolled into his driveway. It was 10A sharp (we like to get an early an early start, you know). Our goal: A Pilgrimage to our 3rd Annual Eelpout Festival in Walker, MN. But this year we thought we'd see and do more. For this Friday, Gil had us booked to play for an Irish crowd at Brigid's Cross in Bemidji. Woo-hoo!
An hour into our adventure we pulled into a rest stop just outside of St. Cloud. Fin went charging from the car (he'd had three cups of coffee). By the time Gil, Keeper and I came sauntering into the bathroom, Fin had already struck up a conversation with the guy one urinal over. We didn't notice since the three of us were deep into some conversation about the Vikings or global warming (don't remember).
"Do those guys know what they're talking about?"
Fin's new friend commented without looking up (good thing). Fin was a bit surprised, but before he could answer, his biff buddy bellowed...


"Because they sound like a bunch of dumba**es to me."
We were kinda shocked for a moment. This is not your typical Minnesota nice. But before we had a chance to call our wives to find out what we should do, he said...


"You wouldn't be headed for some fishing tournament, would you?!"
Ah. A joke. But how perceptive! Gil put his mace back.
Since we actually were headed for a fishing tournament, it seemed appropriate to make dumba** our pet names for each other for the weekend. We were all stumped about how he actually knew, though.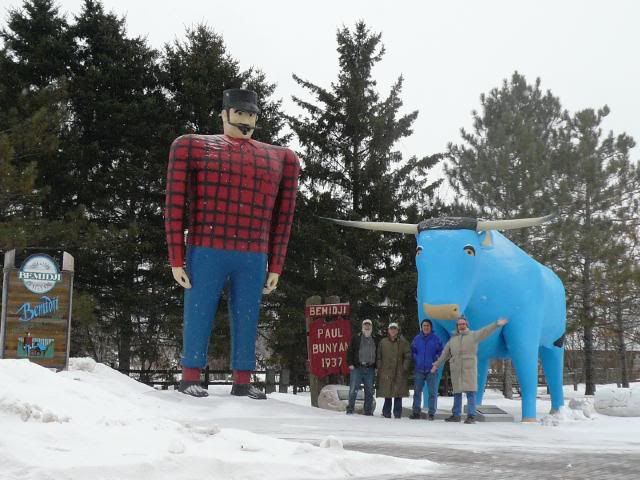 It was getting dark when we pulled into Bemidji, but not too dark to take a picture with Paul Bunyan and Babe the blue ox. I know, not too good of a shot. I had to balance the camera on a garbage can 30 feet away. We're in there. You just gotta look close.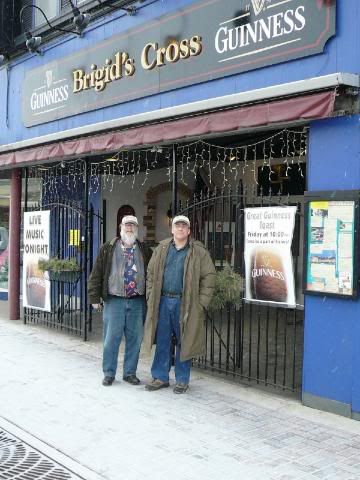 Brigid's was a way cool place! And they like bands named after fish!
We decided to celebrate in kind and ordered their house special (fish and chips) to celebrate. That and several pints of Guinness. We also participated in the world's largest toast of Guinness that took place at 10P that night.
After a restful night at the Bemidji Super 8, we made ready for the 45 minute drive to Walker. That was until Keeper snapped off the windshield wiper from the driver's side of the Pout mobile.
He claims it was already broken, he just happened to be the guy handling it. Gil wasn't convinced. In fact, since we were running on such a tight budget, he was considering other ways to pay $12 for the new blade.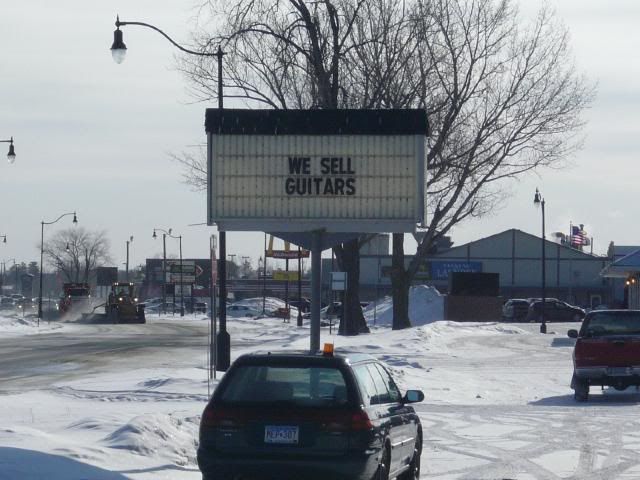 Once repaired, we decided to treat ourselves with a cuppa joe from Dunn Brothers and we back on our way to Walker.
We found the 30th Annual Eelpout Festival (our third) was well under way and attendence was up, despite a bad economy. People still gotta fish, you know.
Walking across the central area we saw our boss Jim (the organizer) being interviewed by the mayor (also the local DJ) on eelpout radio. They gave our arrival the thumbs up so we quickly grabbed our instruments and headed into the O'Fishal's tent to play.
We took up a spot next to our old friends that run the O'Fishal eelpout clothing booth.
There were new signs and pictures all over the place.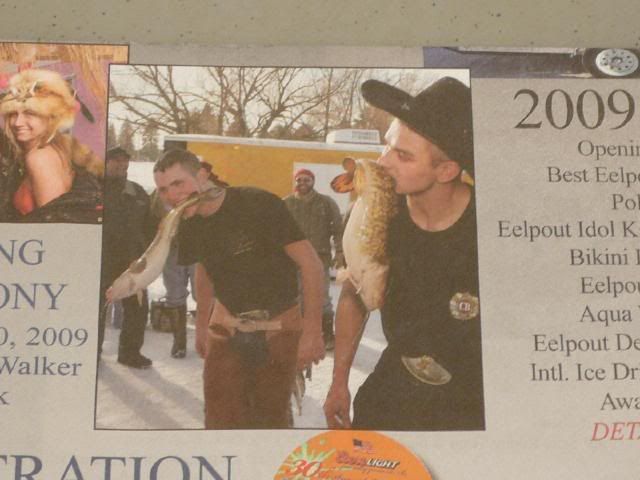 They even put in a fish tank with a live eelpout (more about this later).
The fish were piling up.
The biggest from Friday was a 10.8#, two-toned wonder.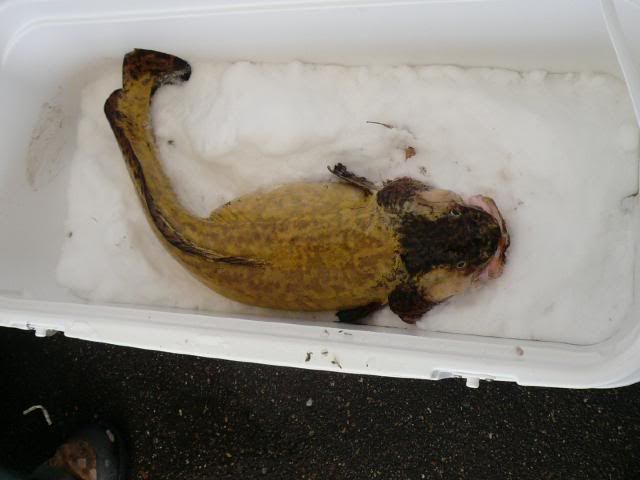 We also noticed some new animal carcass head gear.
These folks were more than happy to pose for pics.
And this fellow appreciated my compliment that his bobcat matched his moustache.
New this year was head attire for the young anglers (that's fish talk for kids).
And an enterprising picture vendor had special framed portraits of fish actually IN the water, UNDER the ice!
How do you suppose that painter kept the canvas dry? Note the $800 fish scene was sold out.
Beaded necklaces were also in this year.
And Gil quickly noticed the girls were back.
It wasn't long until we'd learned another "fashion show" was scheduled in the main tent at 4P! In fact, the girls had set up a table right next to us and were selling their version of Sports Illustrated calendars to build, er, excitement. The calendar also made it easy to bring Keeper up to speed on what he'd missed last year. At $5 a throw, traffic was brisk. Keeper positioned his chair that direction to watch the fun (you see, Keeper is real smart and seems to always cipher that stuff out before the rest of us). Meanwhile, sweet-talking Gil (he complemented the girls on their, er, appearances last year) got himself a free T-shirt!
Fin got in on the fun just by being there.
Both Pouts were immediately faced with a small dilemma… how to get these picturesque articles of attire - which the girls obviously didn't need - into the house. Oh well. They'd worry about that later. What happens at Eelpout Festival, stays at Eelpout Festival.
It's time to play!
We'd no sooner step up and begin to stomp up a storm when this overwhelming fish smell hit us all in the face. Fin turned up his nose. Gil was ready to hurl.
In front of us were two young gentlemen from Florida. They'd stopped and started to dance. Normally, that's not a problem. But they'd just come in from body-rolling in the pile of eelpout out front. That white glaze on their snow suits is slime. Not sure what fish parts are on the fellow on the left's face. Lucky for us, people kept filing in the tent and pushed them and their smell further down the line.
There was lots of other interesting head gear to see this year. Here's pheasant head.
And this husband and wife were expressing their preference for a certain brand of beer.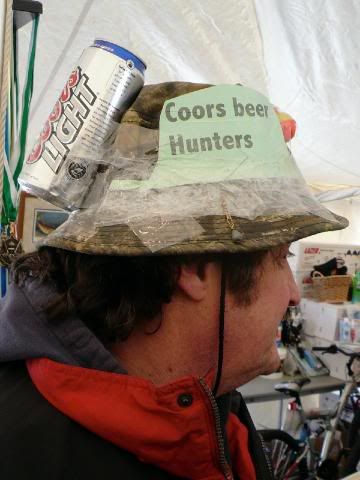 The mod squad also walked by.




This bear was a hunting prize that this fellow had bagged a couple of years before.




There were even folks back from last year… one wore his favorite hat while the other sported a new look!




It was time for a break and we were all hungry so we headed out the door for the main tent and those golden nuggets of pure delight.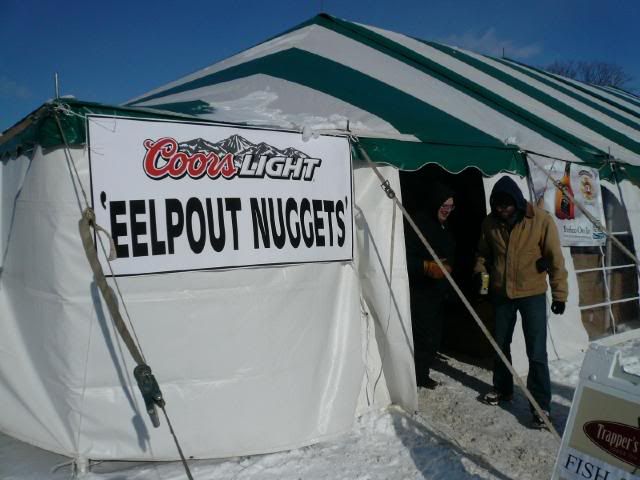 We were almost run over by the mobile bar.




Eelpout Idol was in full swing but was experiencing a momentary lull. Three rounds of "I Did It My Way" was apparently too much for any group to handle (no matter how drunk).




Back to work.




Lotsa interesting things happened during our afternoon of fun. One lady came by and held her mini donuts too close to me. I almost scored one for Fin too before I had to hand them back. Another dancer dropped her Mike's Hard Lemonade but was relieved when it didn't break. We didn't know they were plastic bottles. We also didn't know they were carbonated until two matching jet streams shot 3 feet out each nostril barely missing Keeper's foot. No matter. No harm done.

I saw a lady with a television camera coming by so I quickly alerted to the group to shape up. We sat up straight and played our best version of Johnny Don't Get Drunk hoping to capture her glass eye (uh, camera lens). We were going on about 5 rounds when I was starting to wonder where she was. She'd just been there with her camera ready to roll a few moments earlier. Apparently, we'd lost out. She'd only come in to video the eelpout in the fish tank. Oh well. A brother eelpout still got some limelight.

The afternoon was running late and we still had things to do before the 4P fashion show. We ran outside for a group shot fish kiss.




Fin accidentally got bumped on the lips when I swung the fish too far his direction. Jeez. The guy is SOOO SENSITIVE.

It surprised me how upset Fin got especially when you consider how much he likes eelpout. He works for the Fish and Wildlife Dept, dontchaknow. He asked around to see if it was ok to take an eelpout home as a souvenir. Guess he thought his wife would like that considering he got the nifty T-shirt. So he bagged up a 9 pounder and strapped it to the roof rack.




About that time these four horny guys walked by on their way to the fashion show.




They were eelpout virgins (first festival) but had heard about the fun and thought they'd join in. I kinda liked their hats (that works for "bullhead").

That's when we found out just how popular the fashion show had become. Apparently, last year's appearance HAD added to this year's crowd.




Here's the line just to get in! We decided it was too crowded... no country for old men. Oh well. It probably wouldn't have been good for us anyway. Besides, we had the T-shirts to remind us. Later we would find out Keeper had bought a calendar for his son (yeah, right). We were all thankful, though. With all the visuals, we got to share more memories of last year going home in the car. Boy, that Keeper sure is a smart one.

So it was time to head over to our last gig of the day… Terrapin Station in Nevis, MN.




The place proved magnificent (a wonderful venue for live acoustic music) and the owners (Brian and Stacey) were marvelous hosts. They even fed and put us up for the night!

We were sorry to see our happy adventure come to an end.

The next morning on our way home, we decided to take a last picture of us with one of the many Paul Bunyans scattered across the state. Gil parked the Pout mobile about 50 yards away so I could place the camera on top and take a pic. I'm not as fast as I used to be. The 10 second timer proved it.




That's all the notes from our 3rd annual Eelpout Festival outing. Anything else would just be a lie so I might as well stop here.

Respectfully submitted.

Bullhead
(one of the dumba**es)
PS - Ok, look manmademusic. I'm REALLY sorry we missed the fashion show this year. So I put in one pic from last year's Eelpout Excellent Adventure, alright? Oh. Since this is a family site, I thought I'd edit it some. Hope that's ok.
---
9 comments on "The Eelpout Stringers 3rd Annual Pilgrimage to the Eelpout Festival"

jeremy blankenship Says:
Sunday, February 22, 2009 @7:04:06 PM
sounds like you fellas had a great time. NOTHING LIKE FISHING AND BANJOS!!! :)
Jeremy

manmademusic Says:
Sunday, February 22, 2009 @7:52:51 PM
No pics from the show??? Oh man.... You have to go back and get some pics!

manmademusic Says:
Sunday, February 22, 2009 @9:19:28 PM
LOL! Well it seems as though that particular audience is very appreciative as am I... thanks!
Greg Connor Says:
Monday, February 23, 2009 @8:18:40 AM
Looks like a lot of fun Craig!
This trip seems to have a little of all three major sustenance groups:
Fishing, Music, and let's just call it Entertainment.

TownBranch Says:
Wednesday, March 11, 2009 @7:34:20 AM
MAN!!! That looks to be as fun as pickin' banjer!!!

steve davis Says:
Thursday, March 26, 2009 @7:41:57 AM
Now that's a great fish story.

Jarron Says:
Monday, March 30, 2009 @6:42:43 PM
Fun Fun Fun! Than's for shareing! :)

Cousin Jack Says:
Sunday, May 24, 2009 @7:46:13 PM
That cracks me up!!! Great photo story telling. What do you call that,... a photo essay? Well, anywho....

Awesome!

:)

Keith Madison Says:
Saturday, June 27, 2009 @2:36:15 PM
Only in Minnesota, ya sure...
You must sign into your myHangout account before you can post comments.