Like I said last blog...
One day I'll pick up my banjo and I'll not have played for three days and I'll play everything perfect, up to speed, and be so pleased with myself. I'll go through my lessons and then, since I'm doing so well, I'll go back through them.......and I suck! I can't hit the right strings, I can't hit two right notes in a row! so I quit for the night because my frustration only make it worse. The cycle continues...
I don't understand what it is...sometimes if I concentrate too hard I'll mess up a lot, sometimes if I let my mind wander I'll mess up a lot. It doesn't make sense and it bothers me because I never delt with this with my guitar. I mean, I have my rolls down, like I said, sometimes I'm perfect at them, but I can't figure out this mental hold I've got going on. Somebody tell me that this too wil pass.....
---
11 comments on "Someone shoot me, or buy me magic fingers"

Unplugged Says:
Tuesday, February 3, 2009 @2:24:59 PM
This too will pass .... okay? Pain and frustration are requisites to belonging to the ranks of the banjo pickerhood. See if you can find another banjo picker to learn with/from. Share the pain as well as the gain. Nothing wrong here, Grace. Best wishes.

Banjo75 Says:
Tuesday, February 3, 2009 @2:54:28 PM
this happens with me to. I am playing great one day and then I can't get through a song the next. Time and repititions build consistency... or something like that.

egyptlove3 Says:
Tuesday, February 3, 2009 @2:59:37 PM
you guys are just trying to make me feel better...of which I am glad.

PruchaLegend Says:
Tuesday, February 3, 2009 @9:04:58 PM
I'll try to find my set of magic fingers and send them to you. They're around here someplace in the clutter.
Always try to play relaxed. Of course you have to concentrate as well. When you are too tense you will tend to make more mistakes. And then, there are the days when your fingers will just not pick a string or finger a fret correctly no matter what you do. Just guts it out and keep working. It too will pass (most of the time).
banjo1930 Says:
Tuesday, February 3, 2009 @10:28:52 PM
Learning banjo takes a while, just keep practicing and you will master it eventually. When you get frustrated putting the banjo down for a few hours is one of the best things you can do. It will pass eventually, just keep practicing!

Koala_in_pjs Says:
Tuesday, February 3, 2009 @10:58:14 PM
There must be something in the air because I had the worst ever lesson last week. It was as if I'd never touched a banjo before when I have been learning for 3 months now.
Even basic stuff like Goodnight Ladies and Worried Man Blues which are standard rolls with a chord popped in here and there sounded like cats fighting in an alley.
If you find some magic fingers please put in and order for me cause I could use some too.
Kip.

muntjac Says:
Tuesday, February 3, 2009 @11:32:20 PM
It will come - well thats what they tell me and I do believe them. Take your time it does get easier. You will get frustrated but don't give up. Can I share in the magic fingers please.

Nelson Says:
Wednesday, February 4, 2009 @12:23:55 AM
Stick with it... and it is good advice to put it down for a while when it gets too frustrating. You will find that that passage that was so much trouble the day before is now, somehow, easier to play... or not... whatever... just keep playing. You will be glad you did.
Maybe a search on "Amazon" for the "Magic Fingers... I'm just sayin'... (or e-bay... kidding)

twayneking Says:
Wednesday, February 4, 2009 @8:58:00 AM
Wait till your my age and arthritis and carpal tunnel syndrome gang up on you!

StrugglinMackUK Says:
Wednesday, February 4, 2009 @9:11:17 AM
Whatever you do, don't give up, you will get there. There were times (& sometimes still are) when I could have thrown my banjo straight through the window. But, I made myself play a least an hour every day & now, looking back, I can see how much progress I have made. And believe me, if I can do it, anyone can.
Good luck & keep pickin'.
Mack.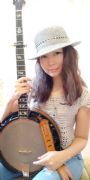 Janna Says:
Wednesday, February 4, 2009 @11:09:45 AM
Sometimes I feel the strange thing. When I play for each day, my fingers hurts. And when I'm not play for two or three days, so when I take my banjo after that rest , then I feel I'm playing more better :) May be it helps?
You must sign into your myHangout account before you can post comments.