Posted by Stev187 on Monday, February 5, 2007
Banjo Haiku
Cathy Fink (1992)
I have thoroughly abused my cassette copy of Cathy Fink's "Banjo Haiku." For me, Fink's playing on this recording is as close to the "gold standard" of clawhammer technique and tone that I've ever heard. Her playing is accurate, musical, bouncy, old-timey, and whimsical.
First, Fink's rhythm is deadly accurate. This isn't uncommon among good clawhammer players, but it's especially true of Fink. The pulse of these tunes is so musical that you can almost hear a bass player thumping around.
Second, Fink's dynamics are varied and subtle. It's not easy to create fine distinctions in tone and volume with the open back banjo. Again, this is a very expressive feature of Fink's playing.
Finally, the technical aspects of Fink's playing are always perfectly aligned with the music. No fancy stuff for the sake of fancy stuff here, but there are plenty of passages that make you wonder "how in the hell did she DO that?" Hammer ons, pull-offs, trills, and other ornimentation are always solidly in context.
One of my favorite tunes here is the speedy "Sleepy Lu," which begins and ends at breakneck speed. Fink also does a phenomenal job of making "Soldier's Joy" her own on this recording; this version highlights her incredible technique as well as the rock-solid rhytym that makes this record so incredible.
In many ways, this is the perfect clawhammer banjo record. Period.
[P.S. Check out Cathy's response below. Coool!]
---
1 comment on "CD Review: Banjo Haiku"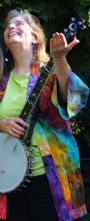 Cathy Fink Says:
Sunday, February 11, 2007 @10:28:44 AM
I am truly humbled by this review and better start practicing! I'm putting the finishing touches on my first all banjo since 1992 and hope I can live up to it! Thanks. Cathy
You must sign into your myHangout account before you can post comments.