Posted by dgill on Saturday, January 10, 2009
I have had such great fun and have met many great people participating in this site. I am making progress with my pickin and much of have what I am learning is coming through you good people.
I am thankful for everything in my life and want to share some of my joy today. I had a birthday and turned 46 on 1/8/09. My daughter was due to have a baby on 1/2/09 and low and behold my first granddaughter was born at 11:50PM on 1/8/09, my birthday of course. She is so beautiful and we are all very proud and pleased that everyone is doing well. So if any of you experianced grandpa's have some advised for a newbie, just let me know. Thanks again and may all your days be merry.
---
5 comments on "Wonder Things Are All Around Me"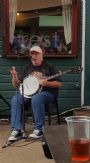 joemac Says:
Saturday, January 10, 2009 @9:06:48 AM
Hey Granpa...she will melt your heart every time you see her...its great, congrats......Joe

jeremy blankenship Says:
Saturday, January 10, 2009 @11:58:09 AM
Donnie I am not a grandpa but congrats. Hope your picking keeps progressing. If you need any advice this is the place. Happy belated birthday too. :) ...... Jeremy

Chris Cooper Says:
Monday, January 12, 2009 @1:44:38 AM
Congratulations Donnie!!!!!!!!
Wonderfull News, Keep on Pickin' and make your grandaughter just as proud of you, as you are of her.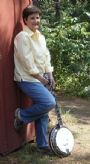 Banjosnob Says:
Tuesday, January 20, 2009 @1:20:46 PM
baby's sleep better with banjo music playing!!!!
I put my husband to sleep all the time.......hummm.... maybe I should kick it up a notch!

dgill Says:
Tuesday, January 20, 2009 @4:22:17 PM
Thanks to all for offering your comments. I always appreciate hearing from good people.
You must sign into your myHangout account before you can post comments.