It's not all THAT cold out.
22 degF at 8PM.
Problem is, the electrical igniter on my boiler seems to have up & died.
So it got down to about 55 inside the house.
I'm sitting here with sweat pants under my jeans, a long-sleeved turtleneck jersey, a polar fleece jacket, and a huge sweater.
Also a night cap, made from the leg jogging pants, keeping my bald spot and ears from radiating much heat.
Socks and knit booties.
I'm going to shut myself in the bedroom overnight, with a small electric heater going.
I learned, back when I worked in the hospital, that those lightweight waffle-weave blankets are very warm, when placed between a sheet and a spread.
I bought a couple at various thrift shops, on half-price day, over the past few years.
I've got two of those and a shiny "Survival blanket".
The good news is, because I live right here in a large enough city, I can go and GET the new replacement part.
Tomorrow, before noon.
My dad could fix most anything.
By conjuring up his guidance, AND looking at the manual, I do believe I can get this fixed.
---
9 comments on "Frosty, Frosty Night!"

Cottonmouth Says:
Sunday, January 4, 2009 @6:27:34 PM
Mike, now that you have a plan for keeping the banjos warm, what will you do?

kentr Says:
Sunday, January 4, 2009 @6:43:40 PM
We have had a bit more cold that expected out here in Oregon.
This morning it was 28, and then warmed up to 32. I got to use one of my favorite lines. " It warmed up to freezing"
You didn't say what kind of fuel your boiler uses, but some things could be the same with gas, oil, or propane.
The gas valve, pilot light with thermocouple or other flame prover to hold the gas valve open, and the spark box to start the pilot.
You could just replace all the parts, or check to see if the burner tries to start, as in makes clicking noise, or lights the pilot but it won't stay lit or open up the main.
Or you could call out a "service tech" and pay big bucks for him to check the pilot, then change all the parts, or if he is a really good salesman ,,,, Then of course you need a complete new boiler.
My thought is that if you can build a banjo, you can fix or repair a furnace also.
kentr

fisher Says:
Sunday, January 4, 2009 @7:20:45 PM
Keep your faucet running so your pipes dont freeze!!

rperkins Says:
Sunday, January 4, 2009 @7:24:15 PM
it's so cold here, i looked out today and saw two beagles with a pair of jumper cables tryin to start a rabbit race

bsa Says:
Sunday, January 4, 2009 @8:23:53 PM
It's so dry here that the Crows are flying backwards to keep the dust out of their eyes.

Dave

DandyRandy Says:
Sunday, January 4, 2009 @9:12:44 PM
Take my wife, please!

bob gregory Says:
Monday, January 5, 2009 @3:35:38 AM
G'day Mike it's that hot here in New South Wales i could be playing my banjo naked but with respect for my banjo i'm not but it is bloody hot. Try and keep warm Mate.
Regards Bob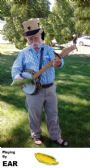 mike gregory Says:
Monday, January 5, 2009 @7:40:19 AM
Dandy Randy,
My apologies to your wife, but I didn't check my blog until this morning.
I wasn't IGNORING her; I was unaware.
(For some electronic reason, I am NOT being automatically e-mailed. The messages go FROM the BHO, but they do not ARRIVE.)
I'm grateful that such a warm and cuddly woman would volunteer.
I'm going to the parts place to get a new ignitor.
If that doesn't work, I'll e-mail you privately, with directions for your wife to EITHER take the freeway OR fly in to Mitchell Field, where I will gladly pick her up.
Distant "cousin" BOB Gregory: OK, go ahead and GLOAT!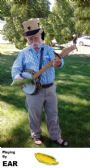 mike gregory Says:
Monday, January 5, 2009 @9:41:03 AM
11:30 Local time.
By the time I got back from the parts store, the indoors temp was down to 42degF.
Took about a half an hour to put in the new igniter, ignitor, however you spell it.
But it fired right up.
Thanks for offering your advice and/or wives.
You must sign into your myHangout account before you can post comments.