Posted by Banjov1 on Sunday, January 4, 2009
So I just got my order from Janet Davis yesterday. I ordered a couple of banjo related items that I didn't receive for Christmas including a capo and a variety of picks.
The local bluegrass store in town really only carries Dunlop fingerpicks. So I've always played them. I started off with a pair of lighter ones and eventually worked my way up to the .025s. I've never really thought about the different sounds I might be able to get from different fingerpicks, but I've hoped that there might be something more comfortable then the Dunlops. Once I ordered some of the Perfect Touch finger picks. I played them for a day or so and while they're really comfortable, I didn't like the control they gave me. So I talked to a few of my banjo friends and mentors and got recomendations for Nationals and Showcase 41s.
Last night I took the Showcase 41s from JDMC and bent them to fit the shape of my fingers. I've played with them for about 3 or 4 hours over the past 2 days and I'm REALLY impressed. They're a little longer than the Dunlops and fit higher up on my fingers. Consequently not an ounce of discomfort as of yet.
But the coolest thing about the Showcase 41s is the sound I'm getting. The picks have a natural snap and really pop the strings. It doesn't matter if I'm playing softly or loudly, the pop is still there and I feel like I'm getting less of that scratching sound from the sides of the picks. Maybe it's just because they're brand new, but I don't think I ever remember my Dunlops sounding this good. It's almost like these 41s are a lighter gauge, yet I can still play just as loud as I did with my Dunlop .025s. So who knows.
Anyway, if anyone's ever interested in trying out some new picks, I'd definitely recommend Showcase 41s.
---

DandyRandy Says:
Sunday, January 4, 2009 @9:22:25 PM
Thanks! Will check them out.

5strings3picks1banjo Says:
Monday, January 5, 2009 @3:18:57 AM
I had the same experience, I had some really nice picks and very comfortable but the Showcase 41's have a great feel and sound and my friends could also hear the difference. They are a crip clear sound. It is what they are made of I believe and are worth every penny. I tell everyone about them. Even though my other type of picks fit better in shape, the 41's sound better and I always use them. I wish I could marry to 2 picks together for a dream pick.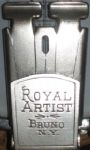 RB-1 Says:
Monday, January 19, 2009 @1:41:25 PM
Tony,

If I had the choice between real old Nationals and 41s, I'd choose the Nationals. But I haven't.
That's why I'm playing 41s.... ;-)

They feel 'harder', less flexible, so I have more control over picking dynamics.
I share your opinion about Dunlops, they just don't have ' the sound'
Tried all types of new Nationals, all had a 'thinner' sound.
The only ones that soundwise come closest to the 41s are older Kysers and Propik, but from the latter, I don't like the feel of the many small holes in them....

Banjov1 Says:
Monday, January 19, 2009 @2:00:14 PM
I've heard about how old Nationals have an allure to them and sometimes go for upwards of a hundred bucks a pair. So naturally I'd love to check a pair out. But until then, like you, I'm pretty happy with these Showcase 41s.
I'm kinda curious though. I wonder if the old Nationals fit on your fingers like the new Nationals? I guess I'm wondering if there's any comfort issues involved in the desirability of those picks or whether it's strictly the sound they produce.
thanks
Tony

Jonno B Says:
Wednesday, January 28, 2009 @1:23:58 AM
I am also interested in the sound and tone produced by different makes and gauges of finger picks. My problem is that living in the UK our access to the majority of picks available in the USA are not available in the UK. I have purchased from US companies (Kyser & Elderly) and as you can imagine, the cost of the picks is not the issue but the postal charges. But reading about the Showcase 41's from Banjov1, I will send for some. Thanks to everyone for your comments.
You must sign into your myHangout account before you can post comments.