Boy, was I in for a wonderful surprise!
As most of you know, my mom has advanced Alzheimer's and is in a nursing home in Cedar Rapids, IA. Mom was a key figure in the childhood many of my cousins growing up in Early, IA. You can't be an organist for 55 years in a church in a farm town of 400 without someone having to eventually check in with you for a wedding, or a funeral, an anniversary or to accompany some HS student at music contest. My mom did all those things... and many more. Her service efforts focused around family, church and community.
When Raleigh married my cousin Joey, mom (and dad) quickly took to him and made him feel welcome. Raleigh has always remembered that. So when I asked Raleigh to make a memorial for my mom, he agreed.
Raleigh is good at many things. Aside from being a great 4-string banjo player, bush pilot, deer rancher and humanitarian, he's good with wood! I asked him to make a music stand in memory of my mom. Church was so important to her, I wanted something that would be there, contributing to the service... something I could see that would remind me of her every Sunday.
So this cold, snowy December Tuesday morning in Rochester, Raleigh and I are sitting in a McDonalds sipping coffee as he's showing me this extraordinary piece... made to honor the service and memory of my mom. It took my breath away.
The wood in this stand is cherry... probably 70 years old, from Allamakee County, IA (grown on Raleigh's farm). The design and engineering are Raleigh's. He studied pictures of music stands online and then did the math himself.
The stand was made with "period" tools... no lathes, nothing fancy. He used chisels and draw saws to give it character. He also let the wood grains "talk" to him and he could let its beauty show.
Even the auger pieces he did by hand! And there are little leather washers in there to help everything fit snug.
Raleigh spent about 80 hours making this piece. He said he thought a lot about my mom and her character while building. Mom likes character in people! So Raleigh left in the endearing marks and traits he thought helped define this piece... and my mom.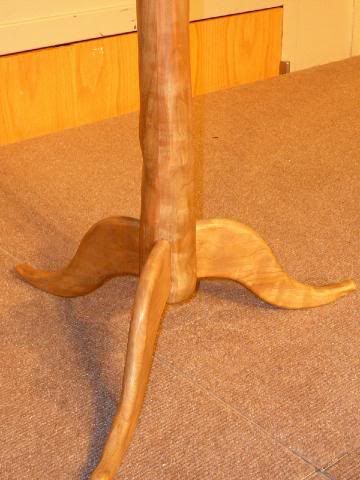 So if you look closely at the picture below showing Singleton Street performing at the Rosemount UMC Bluegrass Christmas service (the very next day after meeting Raleigh in Rochester), check out the music stand under the microphones. Raleigh wanted me to have it in time that we could be the first to use my mom's memorial for this special service. Mom would be so pleased!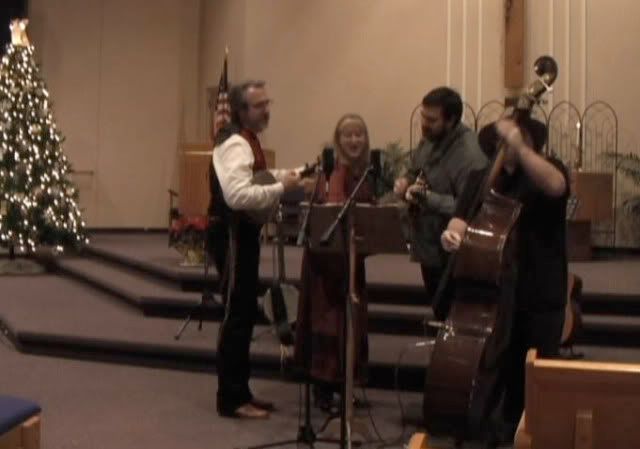 What a great gift... just in time for the promises of Christmas!
I love my family!
Craig
PS - This is a picture I took during this morning's church service (12/28/08). Pastor Brooke is 6' 2" tall. I took it to show Raleigh how well the extension works when pushed to the limit! Thanks again for the stunning, loving tribute, Raleigh... from everyone that mom touched.
---
18 comments on "More gifts from family."
You must sign into your myHangout account before you can post comments.