Posted by ZEPP on Friday, October 27, 2006
So, I figured two copies of my logo on every post would be just too much, and I uploaded the photo you see now. This was Christmas day, 1961, and I am pretending to play the very first banjo I had ever touched.
The original photo is a Polaroid(!), and lacking a scanner, I took a photo of the photo with my digital camera.
To see more of some of my early instruments, check out
http://zeppmusi.vshost.com/Temp/Zepp_as_kid/
To see what the intervening years have done to me, check my Bio!
*sob*
---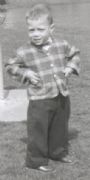 BConk Says:
Friday, October 27, 2006 @5:30:07 PM
I agree - I like the photo better. I noticed this morning that you had the two logo deal going. I thought when I saw it that it might be cool to just have a smaller version of the banjo guy's face as the avatar without the banjo, writing and the circle background ..kinda like a portrait.
But I like the photo even better
You must sign into your myHangout account before you can post comments.