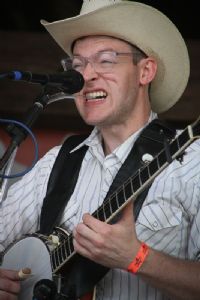 Teaches Lessons: In Person
Styles: Bluegrass (Scruggs) , Other
Levels: Beginner, Intermediate, Advanced
Teacher Since: 2011
Listing Created: 6/26/2012
Listing Updated: 3/15/2013
More About Me
I've been picking bluegrass for about 6 years, played classical guitar, rock, folk etc. for 5 years prior to that.
I recently graduated with Bachelors in guitar performance from Denison University.

In addition to straight bluegrass I can help you pick up melodic and single string concepts from Bill Keith all the way up to Noam Pikelny. Also open to non-bluegrass
students.

I have a good grip on theory and its applications in teaching Bluegrass and jazz. I can help you hear chord
progressions, transcribe breaks, and read music if your
heart desires.

I also teach flatpicking.