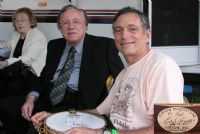 Teaches Lessons: Online, In Person
Styles: Bluegrass (Scruggs)
Levels: Beginner, Intermediate, Advanced
Teacher Since: 1978
Pricing: $80 per hour; biweekly lessons.
Listing Created: 3/26/2018
Listing Updated: 3/18/2023
More About Me
I've been playing since 1974, teaching banjo since 1978. I've been playing professionally in bluegrass bands since 1977, currently in my 20th year with the Massachusetts band Southern Rail. Mel Bay has published my book "Bluegrass Banjo From All Sides".

I teach all levels of bluegrass banjo, and only bluegrass banjo, and I specialize in getting people past the kind of blocks that make some people give up and other people try even harder. For beginners, I have a well-tested method that focuses on getting playing technique right from the start and developing the skills to improvise as early as possible.

I teach face-to-face at my home studio in Winchester, MA, the Music Emporium in Lexington, at the Concord Conservatory of Music, and at Tufts University, where I have been a member of the Applied Music faculty for eight years. I've been on the faculty of Banjo Camp North since 2002. I was also one of the first banjo teachers on Skype, where my handle is banjoteacher. I have taught Skype students in Iceland, Norway, England, Italy and Japan as well as across the United States.

I do hourlong lessons only, except for young kids whose attention span is best served by half hours. I also work on a biweekly schedule - adults often have other distractions in their lives besides banjo, and I've found that two weeks is the right length of time between lessons.

Also, I'm not that other Richard Stillman who teaches 4-string banjo in New Jersey, although we do know each other. He's the one who juggles.